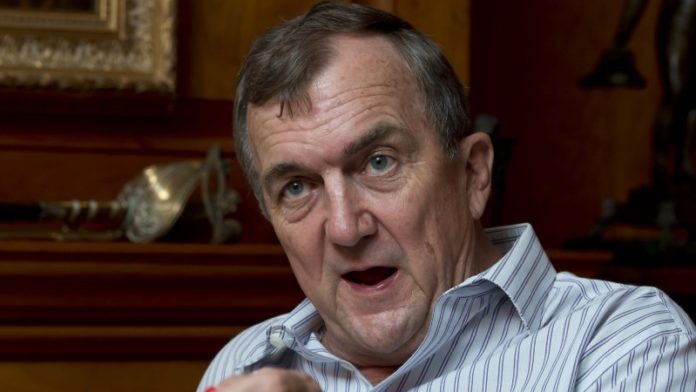 AFTER pushing up its annual dividend 50% to $1 a share for the year to end-December 2016 Randgold Resources could be in a position to double its payout for 2017 depending on the  outlook for the last quarter of  its current financial year.
Key assumptions are that the gold price stays around current levels for the remainder of the year and that Randgold management sticks to the strategy CEO Mark Bristow laid out in September last year which was the group would build up a $500m cash "war chest" and then pay out any extra money held above that in dividends.
As of end-September Randgold held $621m in cash.  Bristow told Miningmx today that, "if the gold price stays where it is then our cash holdings should  get to around $700m by the end of the year."
Almost uniquely amongst its peers Randgold has not increased its share capital to raise additional funds in more than a decade and its issued capital stood at just under  94m shares as of end-December.  So that means a $200m total dividend payout –  if it is declared  – would equate to $2.12 a share .
Asked if management intended sticking to the cash retention policy announced last year Bristow replied,  "absolutely."  In reply to a follow-up question whether that meant Randgold could double its dividend for financial 2017 Bristow  commented, "it's not impossible."
Despite this  Randgold shares dropped 5% in trading on the London Stock Exchange this morning after the release of  results for the September quarter which investors and some analysts viewed negatively despite Randgold having flagged in advance that the September quarter results would be worse than those reported in the June quarter.
For the nine months to September Randgold remained ahead of its performance during the comparable period in 2016 with gold production up 11%, total cash cost per ounce down 9% and profit up 22%.
According to Bristow, "Randgold remains well-positioned to achieve the top end of its production guidance for the year."  That guidance is for production of between 1.25m oz and 1.3m oz of gold.
According to a research note from Goldman Sachs,  the September quarter numbers were, " a weak set of results.  Production was a miss – mainly as a result of Loulo-Gounkoto.  While revenues were in-line, financials were a miss on higher costs.  We highlight that inventory reversal in the fourth quarter should see a big tailwind. However, expect the stock to react negatively to today's announcement."
In his overall review Bristow highlighted his concern over the more than $200m owed by the DRC government to the Kibali mine in terms of VAT refunds, excess taxes and royalties in violation of the country's mining code as well as his worries over the government's apparent intention to introduce a new mining code.
But he remained optimistic that common sense would prevail and these issues would be worked out through negotiation with the DRC government.
He commented,  "Africa is going through a critical time in its evolution and the position of agencies like the United Nations  and major donor countries has changed as they have to deal with their own economic problems.
"The big advantage of operating in the DRC is that you can have an open dialogue with government  and we will reach a suitable solution.  Nobody ever kicked out a tenant that was actually paying the rent."