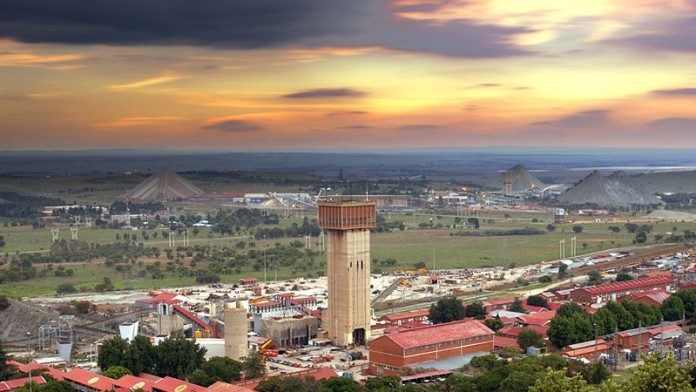 ANGLOGOLD Ashanti registered a strong end to its 2017 financial year mining just over a million ounces of gold in the fourth quarter, and taking full-year production to 3.76 million oz when it had only recovered 1.75 million oz in the first half. It mined 3.63 million oz in its 2016 financial year.
All-in sustaining costs and capital expenditure for the year was "… well within the market guidance provided for 2017," it said in a statement to the Johannesburg Stock Exchange (JSE). "A strong ending to the year. Overall, we expect the stock to outperform," said Goldman Sachs in a morning note. AngloGold posts its full-year numbers on February 20.
From an earnings perspective, however, AngloGold booked a series of exceptional items, some of them non-cash, which will see headline earnings come in between $16m and $33m and headline share earnings of four US cents to nine cents. This compares to headline earnings and share earnings in the 2016 financial year at $11m and 27 cents respectively.
This translated into a basic loss in 2017 of between $180m and $200m or 43 to 48 cents per share. Basic earnings and share earnings for the comparative period were $63m and 15 cents/share respectively. Basic earnings ignore the dilutive effects of convertible shares.
AngloGold absorbed a non-cash impairment of South African assets that it had sold during the year – including Moab Khotsong to Harmony Gold – which it had previously impaired to the tune of $86m. It extended this impairment to $110m or 26 cents/share so that the write-down married with the selling price attached to the assets of some $300m. It had also spent $71m on retrenchment costs related to restructuring at Tau Tona and Kopanang in June last year which affected 8,500 employees.
The group also set aside $49m for the settlement of a class action representing former employees suffering from silicosis. The matter, which is being jointly negotiated with some of South Africa's other gold producers, as well as African Rainbow Minerals and Anglo American, is likely to result in an out-of-court settlement.
2018 promises to be a quieter year in terms of its South African operations unless it re-examines the spin-off of extant South African operations as has been suggested. "A key question will be whether the company will revisit its previous spin-off plan. We believe such a strategy may be easier to pursue post the announced mine sales, and could release significant value for shareholders," said Goldman Sachs last year.
Meanwhile, AngloGold continues to invest in some of the other districts in which it operations. It unveiled in December a A$48m ($39m) expansion of ts 70%-owned Tropicana gold mine, situated in western Australia. Gold production from that mine is forecast to be between 478,000 and 492,000 oz on a 100% basis in 2018.