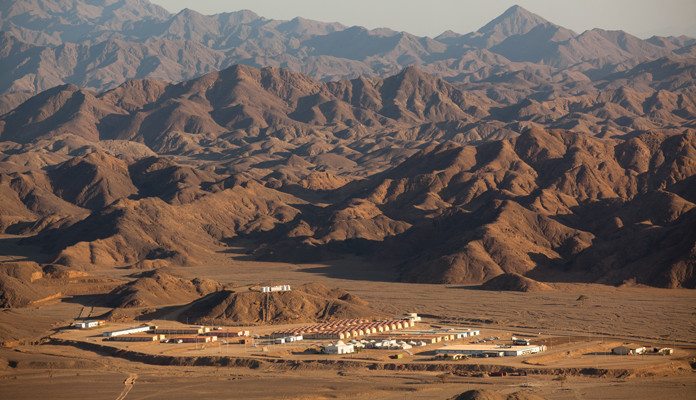 EGYPTIAN gold mining firm, Centamin, delivered the ultimate reward to shareholders paying out its entire cash flow generated in 2017 via a final dividend of 10 US cents/share and taking the total dividend to 12.5c/share, equal to $144m.
"The central tenet of our corporate strategy is delivering returns to stakeholders," said the outgoing executive chairman, Josef El-Raghy in a statement. The company pays out cash once it has a cash buffer of between $250m to $300m. Subject to its upcoming annual general meeting which will vote on approval of the latest payout, Centamin will have returned about $390m in dividends over four years.
Centamin operates one mine, the Sukari operation which produced 544,658 ounces of gold in 2017 at an all-in sustaining cost (AISC) of $790/oz. Set against an average price received of $1,261/oz, it generated $224m in pre-tax profits for the year.
"We are strong custodians of cash," said Andrew Pardey, CEO of Centamin in a conference call this morning. "The $1.1bn capital expenditure [for the development of Sukari] was  recovered in 2016. There aren't many gold mines that do that, and we have now moved into paying dividends. We are also paying our way in Egypt," he said.
At a dividend yield of about 5.8%, the payout was described by Pardey as "… a significant return for any of the FTSE250 companies", which have an average yield of 2.7%.
Centamin forecast gold production for 2018 of 580,000 oz which represents a 6.5% increase on 2017 output at an AISC of $770/oz. It has forecast 2018 capital expenditure of $135m including $37.5m for non-sustaining exploration.
In addition to extending the life of Sukari, Centamin also recently expanded the maiden resource at its Ivory Coast prospect, Doropo, to 1.35 million oz of gold in the indicated category and 900,000 oz of gold in the inferred category. It also has the ABC Project, also in the Ivory Coast whilst in Burkina Faso, it is digging for gold near Konkera.
Pardey said he hoped to have a development plan and approval for Doropo in a year's time, but added that the company would embark on new mine developments "for the sake of it". Said Pardey: "Doropo looks exciting. It will never be Sukari, which is a world class operation, but it will be a shallow, heap-leach operation". Were the project developed, it would be funded out of existing cash resources.
Asked for an update on the search for a new chairperson, Pardey said the process had begun. "We will bring in a chairperson who will add value. We have a strong board from a legal and finance side," he said.
Shares in Centamin have been on the up since the end of last year – by about 18% – but on a 12-month basis they are 1.63% stronger.