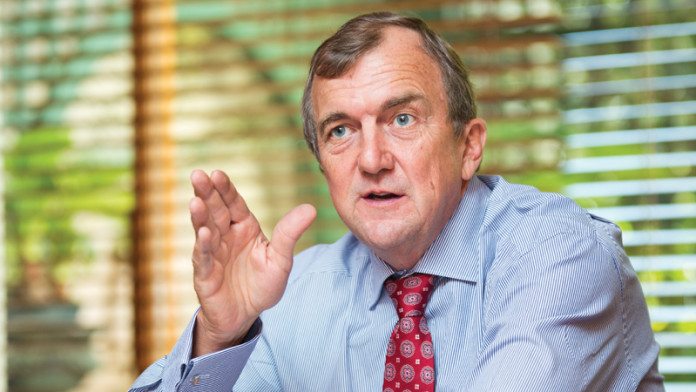 RANDGOLD Resources CEO, Mark Bristow, has met personally with Joseph Kabila, the president of the Democratic Republic of Congo (DRC), as part of the engagement over the central African country's controversial new mining code.
"We have represented our positions to him as an industry both directly and through his advisors, and we will continue to do that. We have offered a roundtable meeting for him personally with key investors if he would like that," said Bristow.
"At the end of the day, there is much more fundamental stuff and President Kabila has still to get involved in this debate. That's what we are waiting for. Is he prepared to engage in this debate for the benefit of his country, or is he going to rely on his advisors to make those decisions?" The new code has been passed by both houses of the DRC parliament, but it still has to be signed into law by Kabila.
Bristow has previously described the DRC as a country where, unlike South Africa, "… you can engage in an open forum with government and 90% of the time the commercial logic will prevail". Asked during a presentation of Randgold's 2017 financial results at the Mining Indaba in Cape Town today what had happened this time around, Bristow replied: "You are assuming this is over. This is a very robust debate and we will continue to have it.
"I have no doubt at the end of the day, logic will prevail because the alternative is nothing. We have run the numbers. You can high-grade further the Katanga copper deposits and everyone can get a lot more in the short-term. But ultimately the future generations will suffer those consequences. The DRC is just too big and too important for Africa to be allowed into float into the back waters of the global economy.
"The country has got so much going for it if it can get through this next milestone in its march towards a truly representative political structure, and be able to unlock its natural resources which up until now have not done anything for the average person in that country." Bristow added that: "Everybody is speculating on this thing, but we [Randgold] have been through a coup d'etat in Mali and a civil war in Ivory Coast.
"We have had some very anxious moments, but that's Africa, and I have always said that Africa is not for sissies. In these sort of situations we – as Africans – have to stand up and deal with them. When you enter into a contract to invest large sums of money from international investors then you need to be strong enough to stand up and hold people accountable to perform on the other side of the contract," he said.
Should the new mining code actually be implemented, Bristow said it would have "… some very serious repercussions for the Katanga copper industry", but would be "… relatively benign as we stand today" for Randgold's Kibali mine.
What it would affect is future investment decisions in the DRC by Randgold – and other mining companies – because of lack of investor confidence.
DIVIDENDS
In doubling Randgold's dividend for 2017 to $2/share, Bristow has delivered on his stated financial strategy of paying out to shareholders excess cash holdings above a $500m "warchest".
In an interview with Miningmx on November 2, Bristow provided a clear indication on the upcoming dividend when he confirmed Randgold's commitment to the cash return strategy and commented the group's cash holdings should reach $700m by the year-end assuming the gold price held up.
Asked at that time whether that meant Randgold could double its dividend from the $1 a share payout of the 2016 financial year Bristow replied: "It's not impossible".
The reason for establishing the war chest is that it makes Randgold financially independent when it comes to building its next new major project. Uniquely amongst its peers, Randgold has avoided issuing new shares and minimised debt levels to finance new projects over the past decade.
Bristow told investors at today's presentation that "… we have a $400m revolver (revolving credit facility) so, with the $500m in cash that gives about $1bn in firepower, and that will support the development of any mine costing between $500m and $2bn which is what Kibali has cost".