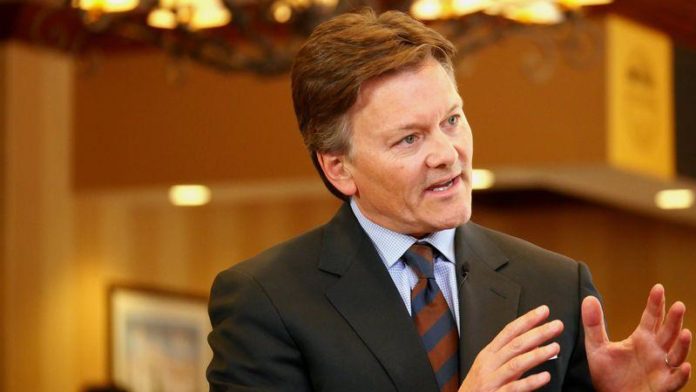 KELVIN Dushnisky is expected to formally make his first public appearance as CEO of AngloGold Ashanti later this month at the Denver Gold Show, a conference where most – if not all – of the great and good in the industry assemble annually.
But Dushnisky nonetheless made his presence felt in Johannesburg in perhaps more impactful terms than even a smart suit and a corporate presentation could achieve by, on Monday, announcing nearly R6m worth of share purchases in his new company.
Shares in AngloGold Ashanti totalling $386,584 were bought between September 4 and September 6, according to a statement on the Johannesburg Stock Exchange headlined on its news service nonchalantly as "… dealing in securities by an executive director".
Smooth as it is to 'put your money where you mouth is', Dushnisky's most admirable commitment is in taking residence in Johannesburg, the troubled and frequently turbulent city where AngloGold Ashanti company is headquartered, work visa pending.
Once on the ground, however, Dushnisky will be facing a number of interesting questions, not all of them about his plans for AngloGold Ashanti either, though local media will be keen to have an indication of how Dushnisky plans to "… unlock the enormous potential that exists in the company" as declared on appointment.
One, perhaps, is why he is here? "Of all the … joints in all the world …" etc. One compelling, and most likely fictional, reason is that Dushnisky fled impulsively from Barrick, his former employer, owing to the increasingly unilateral management of executive chairman, John Thornton.
As retold in Miningmx in August, the Wall Street Journal said Dushnisky was kept in the dark about Thornton's decision to cut a deal with the Tanzanian government over the firm's Acacia Resources in which the East African country is still in deadlock.
The agreement was to pay $300m to end an export embargo, and hand over shares in Acacia which Dushnisky, until recently, was chair. Whilst it's most likely true Dushnisky was blind-sided, he probably sees more in AngloGold than mere professional refuge.
As mentioned by BusinessLive, seeing through AngloGold's re-engineering of Obuasi, the Ghanaian gold mine is a major task for Dushnisky. But there's also a return to Tanzania. Geita is AngloGold Ashanti's single largest gold mine by production. Whilst not yet in the cross hairs of Tanzania president, John Magufuli, it could become so. No better incumbent than Dushnisky then.
But as important as Geita is to AngloGold, there's more to taking the helm of the firm than just a single asset, albeit one presidential directive away from crisis? At 54 years, Dushnisky is of an age where making a difference is not merely a career aspiration, but an importunate question of role and meaning.
Described to Miningmx by Pierre Lassonde, the Canadian personnage célèbre, as "a builder" of companies, that will almost inevitably mean Dushnisky will point AngloGold Ashanti away from South Africa. It's work – for good or ill – is done there.
That'll be a question worth asking when Dushnisky is paraded in front of local media: is AngloGold Ashanti in South Africa ex-growth? Other questions will be: what's his view on success by merger and acquisition; what does he think of greenfield projects; and what of Africa versus growth in elsewhere … so on and so forth ….
There have been three CEOs of AngloGold in its 15 year history. One was in human resources, the next was a mining engineer, then an accountant – each from a different country. Dushnisky is a scientist, a different turn again, and a North American.
This hack, for one, can't wait for his Johannesburg debut.