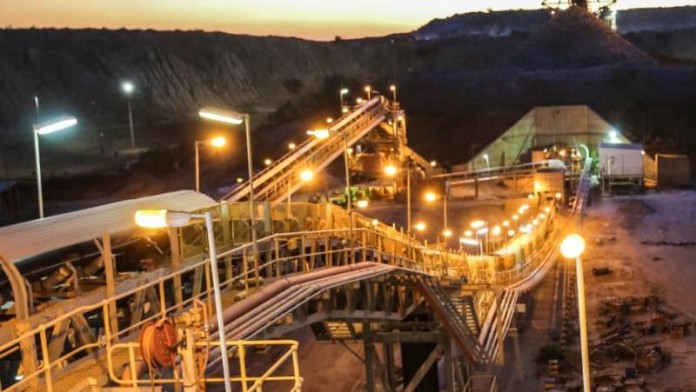 ACACIA Mining took share gains of the past five days to just over 10% following the release of its third quarter production numbers in which it forecast production "marginally in excess of 500,000 gold ounces" for the 2018 financial year.
The forecast was "the cherry on the top", according to RBC Capital Markets in a report which said the third quarter numbers beat its own forecasts. "This clearly demonstrates management are delivering on what they can control," said James Bell, an RBC analyst. However, the outcome of negotiations between Acacia parent company, Barrick Gold, and the government of Tanzania was "a concern", he said.
Exports of mineral concentrate from Acacia's Buzwagi and Bulyanhulu mines has been banned by the government for roughly 18 months amid two presidential reports which claim the company has not paid sufficient tax. Including interest and penalties, the amount owed to government numbers in the tens of billions, it said.
Acacia subsequently put its Bulyanhulu underground mine into mothballs and has continued to operate Buzwagi – a mine nearing its life end – and North Mara which produces door. During this period, however, the company ran short of funds, almost critically in December last year. John Thornton, executive chairman of Barrick Gold, stepped in to the fray offering the Tanzanian government a one-off $300m payment from Acacia as a goodwill gesture and promised to fall in with other government demands of Acacia as per recently passed laws.
Peter Geleta, interim CEO of Acacia Mining, made no mention of the political backdrop to the firm's production performance today. "Whilst there is clear NAV upside from the group's asset base we feel the lack of visibility on what a deal with the GoT may look like is a concern," said RBC Capital Markets.
"We would note after the proposed merger of Randgold and Barrick commentary from incoming "New Barrick" President and CEO (and current Randgold CEO) Mark Bristow that ACA's parent will move towards a solution for the benefit of all stakeholders," he said.
Nonetheless, shares in Acacia have performed strongly in the last five days gaining just over 10%. Bristow told Miningmx on October 1 that Randgold Resources was "an interested by-stander" in respect of Acacia, but he also offered hope for the company saying that Tanzania interested his company as an investment destination. Given that Acacia has engaged with potential Chinese investors, and that Thornton is a Sinophile and believes Chinese capital can be used to de-risk the Barrick/Randgold merger, the chances of the combined company recapitalising Acacia has improved.
Third quarter production came in at 136,640 oz which was some 29% lower than the third quarter of last year (Acacia mothballed Bulyanhulu in September last year). However, output was high enough to take nine month production to 391,000 oz. "As a result, we expect to exceed the upper end of our full year production guidance range of 435,000 to 475,000 oz and are now targeting production to be marginally in excess of 500,000 oz for the full year," said Geleta.
The cash balance as at September 30 was $117m which was flat on the prior quarter. Net cash increased $11m during the quarter to approximately $74m which also included a loan repayment of $14m during the quarter, the company said.