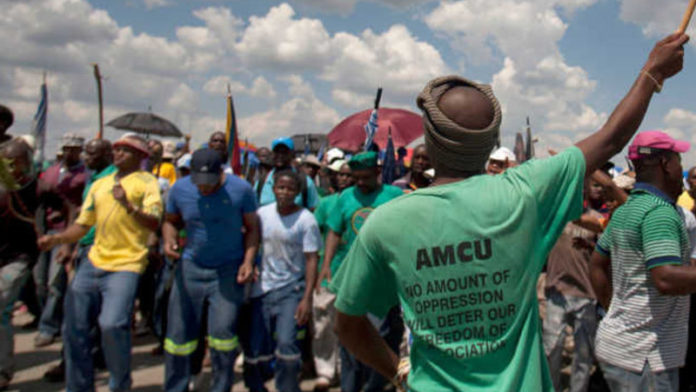 IN the latest broadside fired in the violent, two-week-long strike over wage increases, Sibanye-Stillwater's executive head of human resources, Themba Nkosi, posted an open letter to Association of Mineworkers & Construction Union (AMCU) general-secretary, Joseph Mathunjwa, accusing him of making "disingenuous and dishonest" statements.
In the past two weeks, three lives have been lost, several employees have been assaulted and a police officer was assaulted and stripped of her equipment at the Sibanye gold mines.
Nkosi said the lawless actions during the past week were primarily caused by AMCU's members and were the responsibility of its leadership. Mathunjwa's accusation that the judiciary (which upheld Sibanye's interdict against AMCU's violent behaviour) was biased in favour of big business was "a blatant red herring", Nkosi said.
AMCU, which represents about 43% of employees at Sibanye-Stillwater gold mines, has demanded a basic wage of R12,500 a month for entry-level workers. Another 49% of Sibanye employees, represented by the National Union of Mineworkers (NUM), Solidarity and UASA, signed an agreement on 14 November to accept a guaranteed minimum of R12,800 per month for entry-level workers in the first year, rising to over R14,900 a month in the third year of the agreement.
AMCU participated in the wage negotiations with all the other unions but at the end refused to sign it, and submitted additional demands.
Nkosi said basic wages for lower-paid employees at Sibanye had risen by over 65% since it was unbundled from Gold Fields in 2013, which was significantly above inflation.
He reminded Mathunjwa that if the current strike persisted through the December holiday period, AMCU members, as well as the local economy, would experience significant hardship from the loss of wages.
"Factoring the indirect (multiplier) impact we have on the South African economy implies that our mining has a direct influence on approximately one million South Africans. In addition, mining contributes significantly to the fiscus through taxes and royalties and plays a critical role in sustaining local economies and communities.
"From prior experience, this strike will not only affect the company, but all other stakeholders, with our employees and their families being worst affected," Nkosi said.