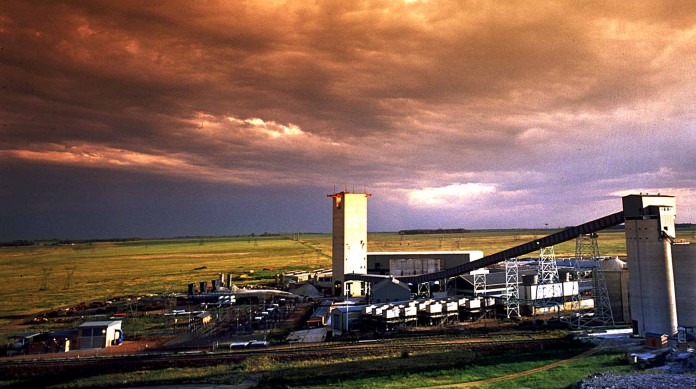 HARMONY Gold was on course to produce 1.45 million ounces of gold as per its guidance – and the level of output CEO, Peter Steenkamp, committed it to achieving when he was first appointed in 2016 – but costs would be higher than planned for 2019.
Commenting in the group's interim results ended December 31, Steenkamp said all-in sustaining costs (AISC) would come in about 3% higher than first guided as a combination of grade and volume issues struck at Tshepong, Joel and Masimong.
On the positive side, Moab Khotsong, the mine bought from AngloGold Ashanti last year, made a significant contribution of 19% to some 751,008 oz in first half production whilst Steenkamp's faith he could beneficially re-commission Hidden Valley, Harmony's Papua New Guinea (PNG) mine, has so far been borne out. It produced 100,000 oz at an 11% margin and was on track to achieve 200,000 oz for the year.
During the six months under review, Harmony also signed a memorandum of agreement with the PNG government which provides some certainty to the fiscal arrangements of the Wafi Golpu project, long touted as a 'game changer' for the company. Wafi Golpu is held in joint venture with Australia's Newcrest Mining.
"The first half performance from certain South African operations has resulted in revising our AISC guidance for FY19 in a range of between R520,000 and R530,000 per kilogram instead of R515,000/kg previously guided," the group said.
Higher production costs – as well as significantly higher amortisation and depreciation costs related to Hidden Valley weighed heavily on Harmony's income statement. The company reported a net profit for the six months of R75m which compares to a profit of R897m in the corresponding period of the 2018 financial year.
There was an 11% decline in production at Tshepong owing to lower grade and less tonnes mined whilst at Joel production was 18% lower, although a decline had been planned. The mine's decline project was nearing completion. At Masimong, production fell 23% mainly owing to a one fifth decline in grade.
But the company generated R1.1bn in operational free cash flow representing a 100% year-on-year improvement. Net debt was reduced by R333m to R4.6bn for the year. Asked on whether progress had been achieved in its funding plans for Wafi Golpu, Steenkamp said "… we take it one step at a time".
Funding for the project doesn't fall due in the foreseeable future and the capital demands would be gradual during the project's early stages, although Steenkamp acknowledged the company didn't know how much equity it would hold in the long-term.
ESKOM
Steenkamp expressed his concern about Eskom's operational difficulties which have resulted in a new wave of load-shedding this week, but it added the impact on the company had been minimal except for reductions in hoisting.
"We are concerned about the impact of Eskom down time, but it has not affected us to date," said Steenkamp. "When we moved to phase 4 load-shedding, we did cut back on consumption by reducing hoisting from the ore passes where there is opportunity and capacity," he said.
His comments come at a time of deep distress for the state-owned Eskom which announced last night that it would undertake an audit aimed at understanding why units were tripping and whether its new build programme (consisting of 9,000MW of new capacity) would be able to meet its current ramp up schedule.
It took the country into phase 4 load shedding on Monday (February 11) in which it lessens stress on the national grid by about 4,000MW but leaves industrial and domestic users without power for hours at a time. It this morning instituted phase 3 load shedding, equal to power management of some 3,000MW nationwide.