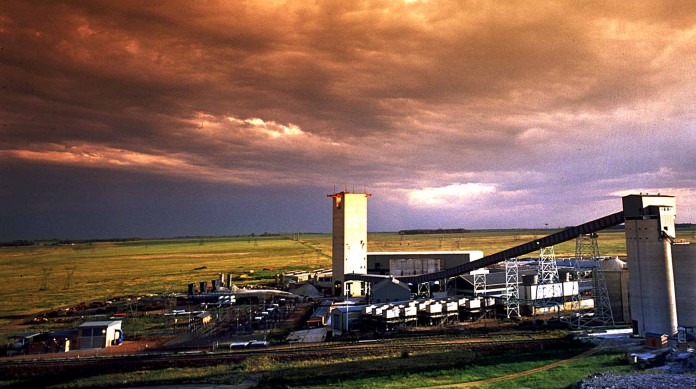 HARMONY Gold came through an oftentimes tricky third quarter (March) with its gold target for the 2019 financial year of 1.45 million ounces intact, but it reported a lock-up of gold in inventory at its Moab Khotsong.
The March quarter is often an unpredictable time for South African gold producers owing to seasonal holidays in December and January which fall into this period. Whilst there were no major production surprises, an increase in higher grade tons at Moab Khotsong had led to a lock-up of gold which would be cleared in the current (June) quarter, it said.
Harmony also underlined earlier comments at its interim results that all-in sustaining costs (AISC) would come in higher than expected at R540,000 per kilogram compared to earlier guided AISC of 520,000 to 530,000/kg. An increase in Eskom tariff increases was one of the factors behind the increase, it said in a production update today.
Peter Steenkamp, CEO of Harmony Gold, said in February he was "concerned" about the impact of rolling black-outs by Eskom, but that it had not affected the underground mines heavily. It said today, Stage 4 'load-shedding', in which 4,000MW of rationed from the national grid in January, only impacted the group's surface operations.
Harmony also said it had topped up its hedging programme in the third (March) quarter of its 2019 financial following a period of volatile dollar gold pricing and rand exchange rate to the dollar. The company has sold forward 584,000 ounces of gold between now and the end of its 2021 financial year which is the maximum it is able to hedge over a 24-month period in terms of its board policy.
In terms of the year-to-date, total gold production increased 29% to 1.08 million oz with underground recovered grade 6% higher compared to the previous comparative period of the March 2018 nine months. This was down to the acquisition of Moab Khotsong and build up in production from Hidden Valley which reached commercial levels of production in June last year, the company said.
Discussions regarding an application for a special mining lease at its Wafi-Golpu prospect which it shares in joint venture with Newcrest Mining was continuing. The company is also conducting an independent technical review of the project which was "progressing".
In the first half of the 2019 financial year, Harmony signed a memorandum of agreement with the Papua New Guinea (PNG) government, where Wafi-Golpu is located, which provides some certainty to project's fiscal arrangements.
Shares in Harmony were under pressure, however. The stock was down about 5.5% at midday. Shares in AngloGold Ashanti and Gold Fields, which have far less exposure to South Africa, were about 2% weaker each, but Sibanye-Stillwater, which derives 100% of its gold production from South Africa, was about 4.5% lower today.