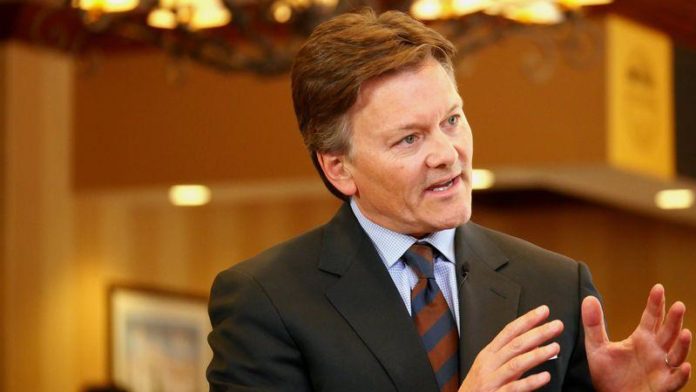 ANGLOGOLD Ashanti's decision to sell its last remaining South African gold assets comes only about six months into CEO Kelvin Dushnisky's tenure at the company since succeeding Srinivasan Venkatakrishnan. In short, it didn't take long for Dushnisky to decide where the group stood on South Africa.
"The industry generally has not chosen the right time," said Dushnisky about when assets ought to be sold. Generally speaking, it "… squeezes out the last ounce of value," he said. "Why then would someone buy an asset?" Dushnisky was commenting in an interview following the group's first quarter results announcement last week.
The headline news from the announcement was that AngloGold would sell Mponeng which, including its nearby surface operations, is set to produce about 360,000 ounces of gold this year based on the annualised first quarter numbers.
Quite how this divestment will proceed is hard to know, however. Dushnisky has targeted deal completion by the year-end – a target that has some analysts doubtful. At the time of writing, there are no obvious buyers except, perhaps, Harmony Gold which has already spent $300m buying Moab Khotsong from AngloGold in 2017.
Harmony declined to comment on market speculation it might be the natural buyer. It is worth noting, though, it has a R4.6bn in net debt at the last count and is facing questions about how to fund its 50% portion of Wafi-Golpu, a project in Papua New Guinea that is, to all intents and purposes, its future.
Another obvious buyer is Sibanye-Stillwater. It is founded on the gold assets it bought from Gold Fields, and more recently has been buying up platinum group metal mines. It recently won Competition Appeal Court approval for its planned takeover of Lonmin, a transaction is financed with shares.
However, it, too, has net debt but of a scale that eclipses all over strategic objectives right now. The company recently raised R3bn through a metals streaming deal and a share placement the proceeds of which it pumped into the balance sheet such is the concern its faltering gold operations won't be able to generate sufficient cash to meet net debt targets of 2x EBITDA.
Another issue is that there's an awful lot of gold assets on the market right now. Not just the ones Barrick Gold is likely to divest following its merger with Randgold Resources, but assets AngloGold itself has put on the table: its Sadiola mine in Mali, and Cerro Vanguardia, an operation in Argentina.
Dushnisky, though, appears relaxed. "There is a different universe of buyers for all the assets that we are selling so we expect good bidding for everything," he later told analysts in a results presentation. "What we are selling in South Africa is really a premium package. I'd be surprised if we don't see full value surfacing. And if we don't see the value, we'll continue to operate the asset," he said.
Dushnisky added that he would consider a partial sell down of Mponeng such that AngloGold would retain a strategic step. This is sometimes viewed positively by stakeholders: the government, for instance, could be comforted that a level of custodianship was being retained by the original operator, especially in the event the buyer was not a company with a track record of operating in South Africa, or where its equity or balance sheet was not quite as robust.
Dushnisky even entertained one analyst's suggestion that the assets could be spun out into a separate vehicle.
The mine currently has eight years of operation left, equal to some 11 million ounces, but its mining right runs until 2037; there's also an estimated 20 years of mining left after existing reserves are depleted. In that sense, the mine is certainly 'premium'.
It does, however, require significant investment to access these additional reserves. Dushnisky wouldn't be drawn on just what's required in terms of capital expenditure as that may affect the way companies bid for the asset.
SA DISCOUNT
In any event, the withdrawal from South Africa, after more than a century of digging holes in the country, seems a highly significant event and begs the question as to whether Gold Fields will do likewise and put its loss-making South Deep mine on the table.
The incentive for doing so – for both AngloGold Ashanti and Gold Fields – is the removal of the so-called "South African discount". Dushnisky said operating risks were everywhere, in different formats, in every country so it's not really fair to wax on about South Africa.
But analysts seem to think investors will, nonetheless, reward AngloGold if it removes its exposure to South African risks such as is track-record of unsafe deep-level underground mining, a volatile union environment and community disruption, and regulatory uncertainty.
Said RBC Capital Markets analyst James Bell: "The opportunity is clear though, there is potential for the narrowing or removal of the so-called SA discount – something that has partially caused a 20% to 40% discount versus global peers in recent years".
"If successful, we expect this would be a key positive catalyst for AngloGold's share price," said JP Morgan Cazenove. The bank has applied a base net present value of about $400m on AngloGold's South African assets which may well put valuation beyond the tolerance of what SA bidders might be prepared to offer.