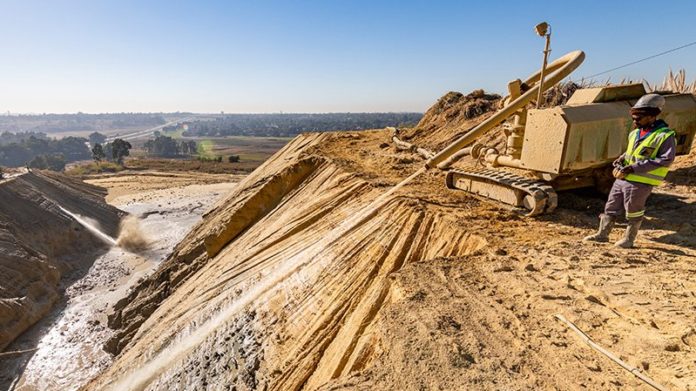 THE improvement in the rand value of gold has given wings to all South African gold shares, including Sibanye-Stillwater – up 93% on a 12-month basis even though it also produces platinum group metals (PGMs) which have more to do with industrial demand that issues driving gold, such as global trade tensions and safe haven investment.
Take DRDGold, for instance, up 80% at the time of writing. So when the firm's CFO, Riaan Davel, spoke last week at DRDGold's annual results presentation (ended June 30) of having built a platform for a new 'Roodepoort Rocket', it was easy to see the source for his enthusiasm, especially as the gold price hike has been more pronounced after June, and the longer term prognosis is equally good.
A reference to the Roodepoort Rocket summons the marketing styling of the recently passed Mark Wellesley-Wood, the former CEO of DRDGold's forerunner, Durban Roodepoort Deep. During the early 2000s, Wellesley-Wood popularised the notion Durban Roodepoort Deep was the 'go-to' stock when the gold price appreciated.
And there was a class of investor, drawn from the US retail market, that bought the idea, if not the share. Often ignored because of its high operational high risk and cost, Durban Roodepoort Deep's mines printed money in a gold bull run. Does, therefore, Davel think this phenomenon is back?
Yes, and no.
The firm's year-end results were conspicuous for the maiden contribution of Far West Gold Recoveries (FWGR), surface gold assets (dumps or slimes) that DRDGold bought from Sibanye-Stillwater in 2018. The FWGR assets are there to balance the somewhat volatile gold leverage aspect of the firm's former appeal and provide a more predictable pathway to earnings growth. In this way, shares in DRDGold might not lurch on small volumes.
Ironically, however, DRDGold can't entirely break its standing as a leverage share. This is demonstrated in its 2019 financial year-end numbers. A R261m cash outflow in the first half was replaced by a R248m inflow in the second as a runaway gold price took hold.
"Welcome to the first chapter," said DRDGold CEO, Niël Pretorius at the firm's presentation. "After 130 years, this is a new chapter," he said of the Roodepoort Rocket's historic place in South Africa's gold industry. He added DRDGold was ideally place to "start dominating", saying that the purchase of the Sibanye-Stillwater assets would allow it to achieve this.
But here's the catch. DRDGold bought these dumps using 38% of its shares as well as giving Sibanye-Stillwater a two-year option to take its stake to 51%.
"There's about 12-months left for us to exercise the option," said James Wellsted, head of investor relations for Sibanye-Stillwater. Asked if the company would consider doing that, he said: "We already consolidated DRDGold's numbers into our accounts so we've already made that assumption."
"It's a question of how we do it," he added.
One option is to buy the surface gold deposits of Mine Waste Solutions (MWS) using DRDGold as the vehicle.
MWS is one of the assets AngloGold Ashanti has put for up sale along with Mponeng, a large mine on the West Rand. Mponeng neighbours Sibanye-Stillwater's Driefontein and speculation is that Neal Froneman, CEO of Sibanye-Stillwater, is best placed to buy it.
Wellsted makes the point that MWS resembles something of the missing piece in the surface gold mining puzzle. "The West Rand Tailings project we planned years ago was to consolidate the tailings surface services of the region, including AngloGold's," he said. "It makes perfect sense to put it into one vehicle."
This would have significant ramifications for DRDGold minority shareholders, as they would become. The 'first chapter' of which Pretorius recently spoke might be reference not to a new page for DRDGold, but a new book, authored by Sibanye-Stillwater.