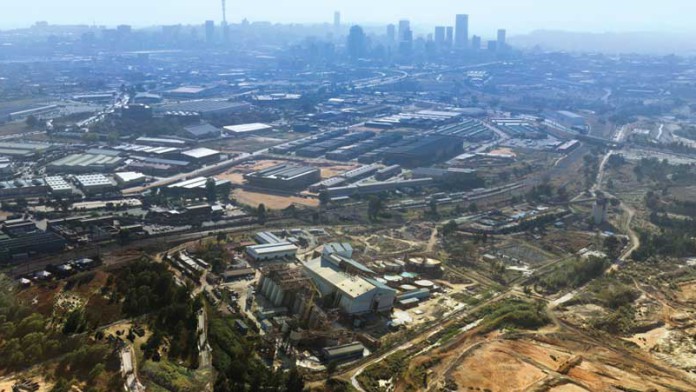 AS a boy, Pretorius Snr. would perform the dare-devil feat of any child who grew up in the shadow of Johannesburg's gold dumps: slide down them at break-neck speed on a metal sheet. It's therefore one of life's little ironies that his son is head of a company that is taking the dumps down, grain by grain as it were.
Niël Pretorius is CEO of DRDGold, a Johannesburg-listed company that re-mines gold by re-processing the mini-mountains of rock that contain historic remnants.
The Top Star dump which was venue to an improbable drive-in slap bang in inner city Johannesburg is one example of a dump re-mined. The recovery is possible because much of the discarded gold slag dates far back into Johannesburg's history as a mining town. In the old days, gold extraction techniques were not as effective as today.
It's worth dwelling on this point: the recovery margins are unimaginably slender, yet – if the technology is right – profitable. DRDGold's Ergo operations (short for East Rand Gold Operations), for instance, yield 0.2 of a gram of gold for every ton of rock processed. And that's when the technology is working well as was the case in the firm's 2019 financial year.
"Our expertise is rare. We have a team that knows exactly how to extract the gold over many years of experience," says Pretorius.
That's one of the reasons Sibanye-Stillwater, the gold and platinum producer, was moved to buy a 38% stake in DRDGold last year in return for its West Rand gold dumps, now known in DRDGold's portfolio as Far West Gold Recoveries (FWGR).
Pretorius was criticised for doing the deal, even though by incorporating FWGR it significantly expanded DRDGold's footprint and life of mine. Analysts were sniffy Pretorius parted with such a large sum of shares, and because he granted Sibanye-Stillwater the option of taking 50.01% control in DRDGold.
The control option expires in February so expect Sibanye-Stillwater to make its move before long. "We are already consolidating DRDGold's numbers in our published results," said James Wellsted, head of investor relations for Sibanye-Stillwater, who adds that the takeover of DRDGold is pretty much a given.
The view of Pretorius, however, is that little will change on the ground. "The last I heard of Sibanye-Stillwater's plans is that they see DRDGold as an investment," he says. There's no plan to shut-down the brand which, if it happened, would be a shame.
LEGACY
DRDGold is the oldest listing in Johannesburg, dating back to the founding of the bourse. The Durban Roodepoort Deep mine, which gives DRDGold its modern-day name, was one of the first gold mines in the city. It operated for over a hundred years and before it eventually closed, it was one of the building blocks for the Kebble family fortune that played out so calamatously and spectacularly under the hand of the late Brett Kebble.
Even then, the late Roger Kebble saw in DRDGold both a gold and a property company, says Pretorius.
Today, the taking down of the gold dumps is not only an environmental boon – dust blown from the dumps to nearby communities has been a bone of contention for years – also means the 'creation' of new real estate, the land on which the dumped gold stood.
"We have communities living near the dumps that we would like to see benefit from when we've finished. At the moment, the land is not very valuable; but when it's cleared, it will become tradable real estate and we'd like to see something good come out of it," he says.
DRDGold said at its annual results presentation in September that it had received clearance for the re-development of just over 135 hectares of property. Pretorius is hoping the government will see in the company the solution to the problem of remnant mining, not the cause.
In the meantime, Pretorius is working on the commissioning of the first phase of FWGR which will provide much-needed diversity to the current single asset Ergo base. There's also early work on a phase two section and with a strong partner in tow, the prospect of more corporate activity down the road.
One possibility is that Sibanye-Stillwater may bid for the assets of AngloGold Ashanti's Mponeng and Mine Waste Solution assets, the latter which would fall squarely in DRDGold's lap were the deal to happen. Asked about the possibility, Pretorius said the canvas was much wider than a single company's assets.
"I don't see why DRDGold wouldn't have a much broader scope for expansion beyond that," he says. "We have a very strong partner in Sibanye-Stillwater and there's the possibility we could reprocess gold dumps both across the east, west and central parts of Johannesburg."
The way Wellsted sees it, DRDGold could also become the vehicle for re-treatment of other metals, not just gold. That, however, is a far away prospect not currently under serious consideration. It is worth remarking, however, that Sibanye-Stillwater is now the world's largest platinum producer with significant resources, and dumps.
NEVER SO GOOD
Pretorius wasn't a natural shoo-in as gold operator. Rather than toiling underground, he earned his stripes in the more hushed ambience of legal chambers. In fact, he was dead set on becoming an advocate, an ambition he has said in the past is not entirely diminished.
"I was employed as legal council to DRDGold and eventually became its CEO," he says. "If I found that Sibanye-Stillwater didn't have any need for me, I'd push off fairly quickly," he says. "But I love the job."
The company does seem to be a calling; even its shareholders are craven to the share, lured by its history as a famed 'marginal gold play'.
Mark Wellesley-Wood, a former CEO who passed away earlier this year, referred to the company was 'The Roodepoort Rocket'. He revelled in styling the company the go-to stock if you believed the gold price would explode (positively), and you wanted to become an instant millionaire. (During the early 2000s, when he was CEO, he tapped into a pocket of shareholders who were gold price conspiracists, the philosophical brethren of survivalists who live in constant fear of cataclysm).
This led to all sorts of derogatory headlines when the gold price didn't endlessly increase in value, all playing on the Rocket theme. Now, however, the gold price really is taking off.
"We've never had it so good," says Pretorius of the current rand gold price which is some R150,000 per kilogram of gold produced better than its average during DRDGold's 2019 financial year.
The company ended the year with R170m in cash and paid another dividend – it has been a regular dividend payer for years – but at the current gold price, the outlook is extremely positive, especially as Pretorius doesn't believe the rand is going to strengthen against the dollar, whilst the macroeconomic picture will continue to be supportive of the dollar gold price. Even DRDGold's financial director, Riaan Davel, was moved to a line in hyperbole that the colourful Wellesley-Wood would have approved.
"With some R170m in net cash, we are in a really, really happy place at the moment," said Davel. "This looks like a launch pad. A rocket launch pad even for the Roodepoort Rocket to fly again, and much further than before," said Davel.