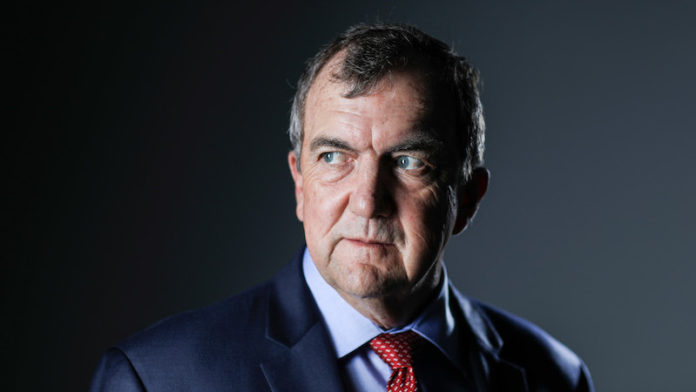 THERE was "a natural pressure" that would force a "rearrangement" of Zambia's mining sector, said Barrick Gold CEO, Mark Bristow, who described the business environment in the southern Africa country as "dynamic".
In an interview following the presentation of strong third quarter numbers today – in which Barrick's gold output, profits and the dividend were increased – Bristow told Miningmx that the company was not actively seeking buyers for Lumwana, a Zambia-based copper/gold mine. "We are not looking at a fire sale there," he said.
Lumwana had a large reserve base, but it did not have roasting facilities whilst there was a paucity of concentrate to fill roasting facilities of other mines in Zambia after the Democratic Republic of Congo imposed a levy on its exports.
The implication is that instead of a Lumwana divestment, Barrick would consider joint ventures in the country. "We have talked to the government that we would help accommodate a rationalisation of the industry to achieve this," he said. "Zambia needs a complete re-arrangement."
Barrick announced in its numbers that it had written back $947m related to its Lumwana asset which Bristow said was a function of its team having "added value". Of the 111 million pounds of copper produced by Barrick in the third quarter, 65 million pounds was produced at Lumwana (Q2: 49 million lb).
Barrick reported net earnings of $1.30/share and adjusted net earnings of $0.15, a 67% increase quarter-on-quarter largely owing to the dollar gold price improvement. Net debt was reduced 14% to $3.2bn after the payment of the dividend. As a sign of confidence in the company's future cash generation, quarterly dividend was increased 25% to $0.05/share.
Asked if Barrick would embrace other forms of shareholder payouts, such as share buy-backs or take on a diversified mining group model of paying out half of earnings, Bristow said his company would keep it simple.
"Everyone has a fad, be it share buy-backs or linking dividends to the gold price. My job is to convert reserves into cash flow," whilst retaining cash on hand to withstand fluctuations in the gold price, pay dividends and pay host countries in profit share. He might impose the Randgold approach of building a cash buffer with excess cash paid out.
This was notwithstanding Bristow's gold price optimism.
He said there was "very little to no downside in the gold price" as significant new reserves were not in the pipeline whilst the politics of the day favoured inward-looking approaches with nationalism high on the agenda – an outlook that supported safe-haven conservatism.
Central banks had continued to increase their exposure to gold and "de-dollarise" their accounts, he said.
ASSET SALES
"The company was under no pressure to sell any non-core assets," said Bristow, although in notes to its quarterly results, Barrick said it hoped to complete $1.5bn worth of asset sales by the close of its 2020 financial year.
"All our assets are profitable," said Bristow. "We have not tested the market but we have had lots of approaches because the industry is short of resources, especially in the mid-range. So we need more consolidation going forward," he said referencing in particular the growth of successful mid-tier gold mining companies in West Africa.
Barrick published five-year gold production plans in which it anticipated keeping output steady at between 5.1 and 5.6 million oz annually at an all-in sustaining cost of $850 to $950/oz with the trend heading towards the lower end. Ten year plans would be published with the firm's resources and reserves update following conclusion of the year-end.
The data encouraged a lot of analyst questioning which Bristow said was a function of how little long-term planning was provided in the gold sector. "It's a foundation of business in my view. The mining sector says it is about allocating capital long-term but it never does any long-term planning. We did it at Randgold but we are one of the few, if only company, to have done it" in the gold sector.
For the current year, production was likely to come in at top end of its 5.6 million oz guidance. On a year-to-date basis, Barrick had produced about 3.8 million oz of gold with a quarter of the year still to run.