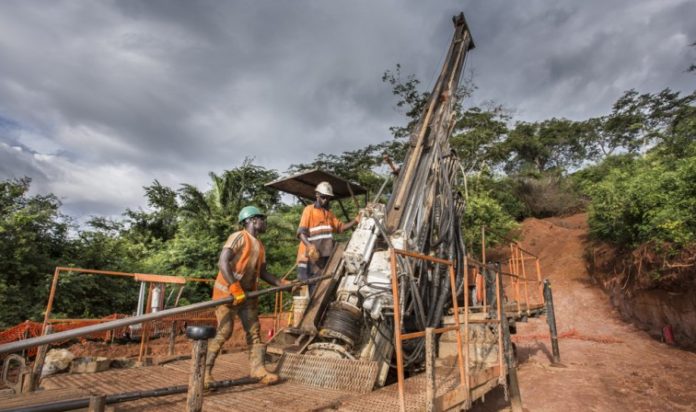 PERSEUS Mining generated strong cash in the third (March) quarter of its financial year, but it took the precaution of drawing down on available debt in order to manage the risks associated with the deadly COVID-19 pandemic.
The Australian-listed firm drew a further $100m from its $150m revolving corporate cash advance facility despite generating notional cash flow of some $24m in the quarter. Total cash on hand, including bullion, as of end-March was $162m, an increase of $81.4m.
Net cash fell to $12m as of end-March from $18.6m at the end of the December quarter owing to the additional draw down on debt.
There were no COVID-19 infections either on site or in any of its communities, but MD and CEO, Jeff Quartermaine acknowledged the risk posed by the pandemic. The company pulled its full year gold production forecast which had been put at 260,000 to 300,000 ounces at the beginning of its financial year in July last year.
The company produced some 57,983 ounces of gold from its Edikan and Sissingué gold mines in Ghana and Côte d'Ivoire respectively, and sold just over 60,000 oz in the quarter. Production for the 2020 financial year to date is about 192,000 oz.
Perseus said it was confident of plans it had installed to cope with COVID-19, having drawn on its experience with dealing with Ebola outbreaks, but there could be no full confidence at the end of the day.
The company was also in the throes of building its $265m Yaouré project in Côte d'Ivoire. It had spent $186m of the project capital completing 52% of the development work. It was, therefore, on track to pour first gold in December.
Perseus has been caught – like others – with its pants down on the gold price. The firm's total hedged position at the end of the quarter was 317,345 oz at a weighted average sales price of $1,393/oz against a gold price which is currently around $1,700/oz and is forecast to knock on the door of $1,800/oz, or even higher.
"Hedging contracts provide downside price protection to approximately 22% of Perseus's currently forecast gold production for the next three years, while 78% of forecast production is potentially exposed to movements in the gold price," the firm said on Tuesday.