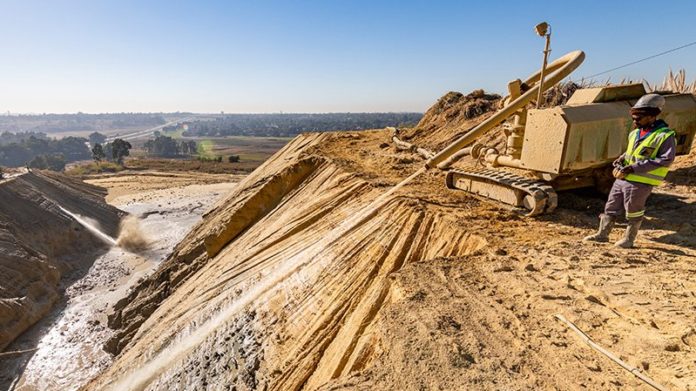 DRDGOLD adjusted production guidance for its 2020 financial year following COVID-19 lockdown regulations which resulted in a degree of downtime.
The company said in a third quarter update today that gold production was likely to come in closer to 175,000 ounces than the 190,000 oz of its upper-end estimate to which it had previously guided.
DRDGOLD was, however, in reasonably good shape as of March 31.
It had no borrowings and had received a inflow of R1.06bn after its then 38.5% shareholder, Sibanye-Stillwater, exercised an option to build its holding in DRDGOLD to a controlling 50.1% position.
Including cash flow from operations of some R422.8m during the quarter, DRDGold had cash and cash equivalents of R1.29bn. The firm paid an interim dividend of R213.6m in the quarter under review.
In terms of amended COVID-19 related lockdown regulations related to open-cast or surface operations, the company has returned to 100% production. This, coupled with a highly supportive, rand gold price presages relatively well for DRDGOLD's prospects.
For the three months ended March, it reported an 18% quarter-on-quarter increase in adjusted earnings before interest, tax, depreciation and amortisation (EBITDA) of R389.3m. The EBITDA performance reflected a 13% lift in the rand gold price which averaged R785,581 per kilogram in the quarter. The rand gold price is currently trading at just over R1m per kg.
DRDGOLD operates two sites at Ergo east of Johannesburg and its Far West Gold Recoveries (FWGR) in which it processes gold locked in up previously mined ore. Production from the sites was 13% lower from the quarter, but DRDGOLD kept the decline in sales to only 3% as it sold inventory gold.
Cash operating cost per kilogram sold rose by 6% to R489,193, but the cash operating cost per ton milled was stable at R101. All-in sustaining cost and all-in cost were both higher at R577 633/kg and R588 235/kg due mainly to an increase in capital expenditure.
DRDGOLD will be thankful it kept to a conservative approach to dividend payments at the interim point of its financial year in February.
The company said at the time that it would hold back about 50% of the R406.6m generated in free cash flow during the six months to end-December saying the money was needed to help fund the second phase expansion of the FWGR project. The first phase of the FWGR was from one high-grade resource which was very profitable. "Some of that must be used to pay for development of the bigger project," said Riaan Davel, CFO of DRDGOLD.
Shares in DRDGOLD were largely unchanged by midday today in Johannesburg, but the stock has been on the up. At R18.20, the share was at a five-year high on April 24 before retreating a tad. It is currently trading at R17,77/share valuing the company at R15.4bn.