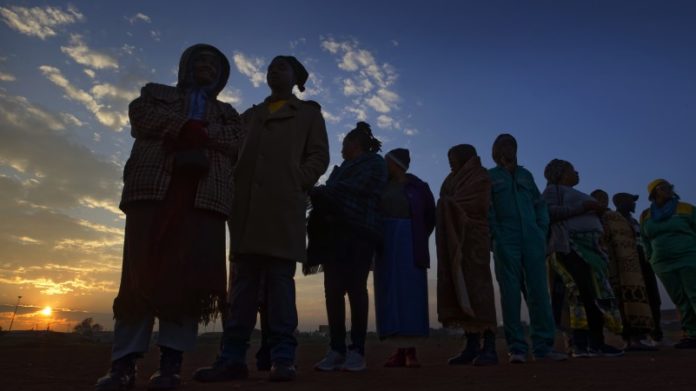 HARMONY Gold confirmed two employees of a contracting company operating at its Kalgold mine in South Africa's North West province had tested positive for COVID-19 virus.
The occurrence is further evidence the pandemic is making its presence felt in the mining sector following positive testing at the Marula Joint Venture, a platinum mine, and at Dwarsrivier, a chrome mine. Both mines are situated in the country's Limpopo province.
"Every effort is made at our mines to mitigate the impact of the COVID-19 virus," said Peter Steenkamp, CEO of Harmony.
Mining had been suspended at Kalgold, although the plant at the mine continued to operate, Harmony said. Employees who have tested negative for COVID-19 had also returned to work.
Kalgold's production represents 3% of Harmony's total production which has been adjusted to 1.4 million ounces in terms of 2020 financial year-end guidance.
The two contractors have been isolated and were receiving medical care. They were asymptomatic having been identified as positive through Harmony's joint testing process conducted in collaboration with the Department of Health, the company said.
The process of tracing possible contacts is underway, with all of those identified either self-quarantining or quarantining at a company facility for 14 days.
"Harmony will continue its routine screening and testing at the mine in line with its COVID-19 Standard Operating Procedure," the company said.
Earlier today, the National Union of Mineworkers (NUM) called on the Limpopo provincial government to shut mines in the province. It said there were 30 confirmed cases of COVID-19 on Monday at Dwarsrivier in which African Rainbow Minerals (ARM) is a joint venture partner.
Another mine in which ARM has a stake – Modikwa Platinum Mine – had also registered a confirmed case of COVID-19, said the NUM. ARM had not responded to a Miningmx inquiry seeking confirmation of the infections.
Impala Platinum (Implats) said on the weekend it had temporarily suspended production at Marula following infections of 19 employees.
The employees tested positive with the virus on their way into the mine in order to start a one week shift in terms of the company's fortnightly shift pattern which allows half of staff to stay at home every other week.
Implats commented that the prevalence of COVID-19 might be higher in the nearby Limpopo province community than first estimated.