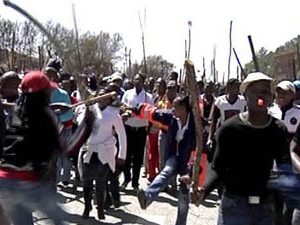 [miningmx.com] – THE Bapo ba Mogale traditional community is to march at Lonmin's premises today protesting against plans to reduce the workforce at its shafts by 3,500, said BDLive citing iaison committee chairman Julius Manyama.
Manyama also told BDLive that the retrenchments went against the spirit of an empowerment deal conducted between the Bapo ba Mogale and Lonmin in which the community swapped a royalty for shares in the company. The transaction, valued at R664m, enabled Lonmin to reach its 26% black-ownership target.
Manyama showed court papers arguing that the Lonmin empowerment transaction should be reviewed on the basis that key information such as the due diligence study had been kept "secret" at the time the deal was signed.
Click here to read the full article