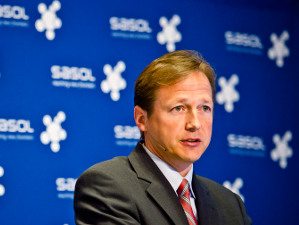 [miningmx.com] – SASOL, the largest producer of liquid fuels from coal, posted a 26% increase in interim profit as the weaker South African rand rubbed out the negative effects of a R5.3bn write-down of the group's Canadian gas assets.
Bloomberg News reported that Sasol's one-time items rose to R18.4bn in the period from R14.5bn previously.
"We are moving full steam ahead to go live with our new operating model, which will drive streamlined management structures, cost-effective processes and meaningful savings,' the newswire quoted Sasol CEO, David Constable to have said.
The cost of implementing the enhancement program will be about R1.2bn in this financial year, the company said.
"The rand-dollar exchange rate remains one of the biggest external factors impacting our profitability and we expect a slight strengthening from its current levels,' Sasol said.
Click here to read the full article