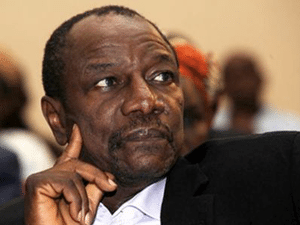 UK-listed iron ore exploration and development company, Sable Mining, is at the centre of an bribery investigation that links it to illegal payments in order to win favourable working conditions in Guinea.
Citing Guinea mines minister, Abdoulaye Magassouba and Cheick Sacko, the Minister of Justice, Bloomberg News said the two would probe how Sable came to be awarded iron ore exploration licenses in the west African country.
"My department will fully support the justice system so that clear light can be shed on the activities of Sable Mining in Guinea," Magassouba told the newswire.
Guinea president Alpha Conde denied allegations by advocacy group Global Witness that the London-based company supported his presidential election campaign in 2010.
The allegations were contained in a May 12 report on Sable's activities in Africa. Global Witness said there was no evidence of wrongdoing by Alpha Conde.
Conde also denied that his son was involved with Sable whilst Sable CEO, Andrew Groves, and former Chairman Phil Edmonds, told Global Witness that if any bribery occurred in Guinea, it was without their knowledge.
Sable Mining is building the Nimba mine in southeast Guinea which contains an estimated 178 million tonnes of iron ore. The project was estimated to cost $1.3bn in capital expenditure.
Isaac Redd, a spokesman for Liberia's House of Representatives, told AFP that six people would be chosen for a special investigative body.
"The committee that will be set up by the House of Representatives will be an independent one. It will comprise people that are neither in government, nor in the parliament. This accusation is so grave that we cannot leave a room for a compromise," Redd said.
Global Witness also accused the chairman of the ruling Unity Party, Varney Sherman, former House Speaker Alex Tyler, and Senator Morris Saytumah of receiving bribes as part of a $950,000 campaign by Sable between 2010 and 2012.
Sherman told AFP he was willing to co-operate with any investigation, but denies wrongdoing. Tyler and Saytumah have yet to respond publicly, the newswire said.