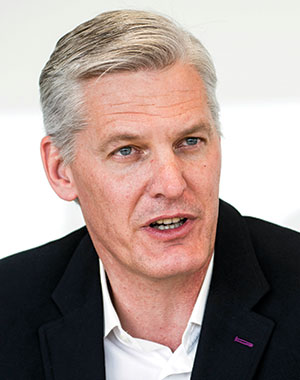 Andre

De Ruyter
Outgoing CEO: Eskom
'I am unfortunately currently in a position where I do not regard that position as being tenable and I have accordingly decided to step back'
"DE Ruyter sheds Eskom," trumpeted a South African daily on its front page in December. André de Ruyter has had one of the most thankless jobs in the country, and on 14 December he had enough and resigned. His last day in the office will be March 31, but until then he'll have to continue enduring criticism and schadenfreude from the likes of trade union Numsa and ANC deputy president Paul Mashatile, who reportedly gave a sigh of relief when he gave his notice. When De Ruyter accepted the position in 2019, he sported a successful corporate career, and he reportedly took a significant pay cut to join Eskom.
His 36-months' tenure at the parastatal coincided with the worst power cuts in South African history and it was to be expected there would be blame-shifting and scapegoating in abundance, especially from the ANC leadership, who won't accept partial responsibility for the years of neglect and mismanagement at Eskom. De Ruyter had a terrible three years: he had to steer the embattled state-owned utility through regular incidences of sabotage and theft and manage a fragile balance sheet, and he faced frequent calls for his axing.
Everyone has a breaking point, and it would be fair to speculate that the character assault launched by Mines and Energy Minister Gwede Mantashe was the final straw when he alleged De Ruyter was "agitating to overthrow the state" because of continued power cuts. The question now is who will take over. And is there someone that would do a better job? The government approached 27 people prior to De Ruyter's appointment. They all declined. Finding a replacement won't be helped by news in January that De Ruyter opened a criminal case alleging an attempt on his life in December by poisoning.
LIFE OF ANDRE
The fact that De Ruyter does not have an engineering qualification was a handy tool for his detractors. Eskom needs a qualified engineer, they say. He holds a BA degree from the University of Pretoria, an LLB from Unisa and an MBA from Nyenrode University in the Netherlands. De Ruyter joined Sasol straight from university, where he changed the fortunes of one of the petrochemical giant's loss-making business units. Prior to his appointment at Eskom, he headed up packaging giant Nampak. De Ruyter was Eskom's 10th CEO in as many years. His exit will coincide with the retirement of COO Jan Oberholzer..
More Rainmakers & Potstirrers