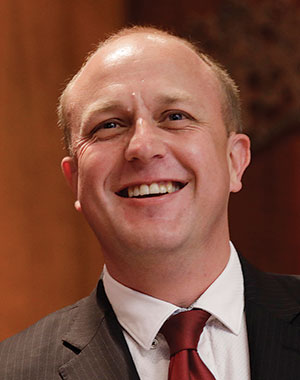 Anthony

Viljoen
CEO: AfriTin Mining
'The fact we have successfully brought phase one into production allows us to significantly derisk phase two'
DURING the time AfriTin Mining built the first phase of its Uis tin mine in Namibia, CEO Anthony Viljoen witnessed the metal's price oscillate alarmingly. After trading around $17,000 per ton, tin prices ran hard to more than $40,000/t before returning to about $25,000/t by the time of AfriTin's interim results presentation in mid-2022. If that's not enough to scare the lights out of a developing tin producer, there's little that will. As a result, Viljoen's AfriTin is wisely weighing up the benefits of a second-phase expansion that will see the Uis mine diversify into lithium and tantalum production. If the project can be financed, lithium would comprise 58% of Uis's total revenue, with tantalum contributing 5% to the pie.
AfriTin would also become the only operating lithium firm on the UK's AIM and give it a more meaningful position in battery minerals supply. But it's a big 'if' at this stage. A preliminary economic assessment of Uis found that a phase-two expansion would cost $440m in capital development, dwarfing anything AfriTin has financed to date.
In the shorter term, AfriTin aims to complete a $53.6m funding package through various means - a share placement with investors, a convertible note and royalty stream agreement, as well as development lender debt - which would be used in part to finance a phase-two feasibility study. AfriTin currently produces 1,200 tons annually of tin. Phase-two production would result in 61,000t/year of additional lithium concentrate.
So a quantum leap is being envisaged. Test work on lithium recoveries is due in the first quarter and roll-out for a pilot plant is also underway. Lithium has strong market fundamentals but risk abounds: according to analysts, elevated lithium prices, which largely defied the broader commodity market in 2022, are due for a major correction this year.
LIFE OF ANTHONY
Viljoen was a founding member of VM Investment Company, established in 2006 to target opportunities in primary industries. VM's investments include MRT Group, which bought the NiMag assets from Coal of Africa, as well as gold exploration assets in East Africa. Viljoen also sits on the board of Bushveld Minerals. He hails from a well-known family of geologists: his father is Prof Richard Viljoen and his uncle was the late Prof Morris Viljoen. Viljoen holds a Bachelor of Business and Agricultural Economics degree from the University of KwaZulu-Natal, and a postgraduate diploma in finance banking and investment management.
More Rainmakers & Potstirrers