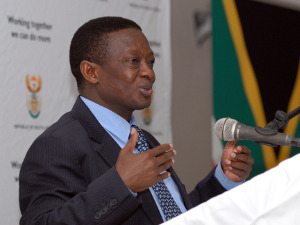 SOUTH Africa's deputy mines minister, Godfrey Oliphant, confirmed informal talks between the country's government and the mining industry had begun on resolving the dispute about the Mining Charter a redraft of which is currently suspended.
"The leaders of this industry must talk to each other. Government leaders must talk to the Chamber of Mines and we have started discussions," Oliphant told the Financial Times. "We are going to find a way to deal with this by working together," he added. Oliphant acknowledged to the paper that his government could have done a better job consulting the industry on policy change.
In June last year, the Department of Mineral Resources led by mines minister, Mosebenzi Zwane, published a redraft of the Mining Charter which contained radical new measures aimed at transformation which the mining sector had never discussed. Roger Baxter, CEO of the Chamber of Mines, said the Charter was egregious.
The discussions, which took place last week, covered a whole range of issues, with the government asking if the impasse was down to a lack of consultation or more substantive issues in the charter "… that we can't talk about and solve", said the Financial Times citing Oliphant. "We need to look into it and ask what is there really," he said.