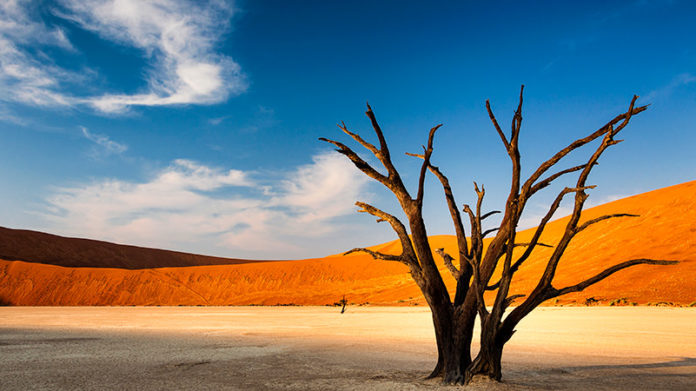 SHARES in Paladin Energy fell 19.6% on the Australian Stock Exchange today after Namibia said it was considering taking free carry stakes in resources companies.
In July last year, Paladin gave the green light to the restart of its Henrich Langer mine in Namibia six years after a plummeting uranium oxide price forced its closer. First production is planned for 2024.
The country's mines and energy minister Tom Alweendo was quoted by Bloomberg News as saying the government was "making a case" for local ownership.
"The proposed state ownership should take the form where the state owns a minimum equity percentage in all mining companies and petroleum production, for which it does not have to pay," he said in the article.
The country is also contemplating creating a minerals exploration fund, which could be financed by a portion of the royalties paid by mining and petroleum companies to the state, Alweendo said. The fund will be used to support local entrepreneurs who want to invest in the mining sector, he said.
Namibia is one of Africa's biggest producers of diamonds and largest of uranium, said Bloomberg News. In February, Impact Oil & Gas said it will start a multiwell drilling programme in the country with TotalEnergies SE, which discovered oil offshore last year.
Shares in Paladin lost as much as 23% during the day valuing the company at its lowest since August 2021.
Paladin would spend $117m making Langer Heinrich production ready. The mine will operate for 17 years, Paladin said.
Its reopening builds Namibia's position as a significant part of the uranium market. It currently produces uranium from Rossing Uranium Mine and Husab Uranium controlled by Chinese investors, but there are more on the radar.
"There are a number of uranium projects in the pipeline just waiting for the price to recover," Namibia's finance minister Ipumbu Shiimi told Bloomberg News in May last year. "If the price reaches $65-$70 a pound, then that will trigger more investment in uranium."
The arid southwest African nation joins others such as Zimbabwe, Brazil, Chile, Indonesia, Philippines and Peru that are pushing for more value from their minerals or considering increased state intervention, partly due to higher commodity prices, said Bloomberg News.
Shares in Andrada Mining were just over 3% lower in London today. The company recently announced it was open to a joint venture at its Uis mine in Namibia in an effort to finance an expansion into lithium production.