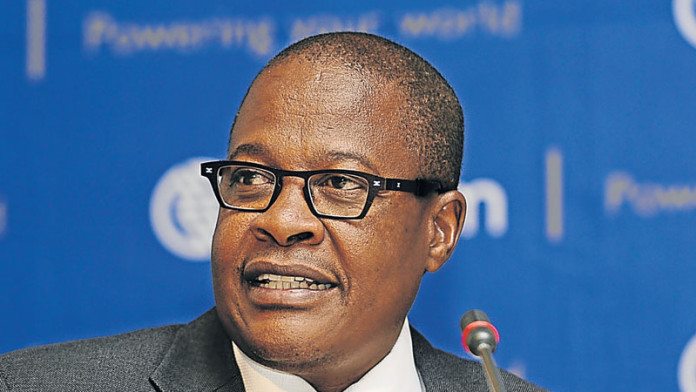 BY Brian Molefe's combative standards, the fighting talk at Eskom's full-year results presentation earlier this month was par for the course.
In the space of one breathless hour, he laid into the banks that had denied the Gupta family businesses access to banking facilities in South Africa, likening their ostracisation to a witch-burning; he told Anglo American not to expect a new coal sales agreement for its mines; and then he threatened – in somewhat sinister tones – to bankrupt the business of a media critic who was sitting in the audience.
All in a days' work for the CEO of Eskom who in September will have been the permanently employed at the utility for a year.
Asked by this correspondent whether he had a more delicate approach in his armoury, Molefe laughed lightly.
"I remember saying when I was at the PIC [Public Investment Corporation of which Molefe was CEO for seven years from 2003) that if you don't bring blacks into the economy there would be consequences."
"The coal guys just didn't do enough black economic empowerment (BEE) on their contracts," he said.
This is why Molefe is playing hardball with Anglo American which is divesting of its thermal coal mines in South Africa. Critics say Molefe is hoping to steer the sales process to the benefit of Eskom's preferred suppliers; Molefe insists BEE is the goal.
For its part, Anglo has acknowledged Eskom has a voice at the table; after all, it was Eskom that provided capital to build the mines and Eskom is the only customer for the coal. However, Anglo is yet to speak decisively on whether it thinks the utility can lay ownership over its mines.
Molefe is certainly blunt, but he's been excessive this time around too.
He criticised Eskom's long-standing critic EE Publishers, saying he would like to see the business fail. Its founder, Chris Yelland, an energy expert, said that he thought such an idea 'frightening'. Molefe's rebuttal was that if Yelland wanted to take the matter further he could do ".. at the Sandton Police Station".
If that sounds harsh, it's worth remembering that a meeting between management at BHP Billiton Energy Coal of South Africa and Transnet, when Molefe was CEO, nearly broke out into a fist fight. We know about this because Molefe recalled it at a results presentation once. It's not known if Molefe was present at that nearly physically violent meeting.
Commenting on the Guptas, Molefe said: "No-one is telling us why we shouldn't do business with them. I would like to know the reasons why". This was before Standard Bank's letter was made public in which it cited five laws, including the US's Foreign Corrupt Practices Act, for not continuing business with Gupta-related businesses.
Said Molefe: "A few years ago, the construction industry colluded to push prices up for building a stadium. They still have bank accounts". Molefe added that some of these construction companies were performing contracts on Eskom's new power station build programme. "The day I pretend to understand why their bank accounts are closed is the day I am dishonest with my soul," he said.
One upside to Molefe in this mood is that there's no question as to who's in control at Eskom.
Brian Dames, a former Eskom CEO, was also critical of the cost plus coal mine model that the likes of Anglo operated. But as an Eskom lifer, and with a mandate to 'keep the lights on' throughout the Fifa World Cup in 2010 above all other priorities, he was politically tethered.
In contrast, Molefe has more political muscle which is why, for instance, his comments on nuclear power are worth noting – a politically muddied subject if ever there was one.
"I am uncomfortable with the high cost of IPPs," he said, pointing out that as a portion of primary energy costs, IPPs represented 18% of the total but only provided 4% of generation. "They are the most expensive form of generation. One day, they may mature and become the cheapest form of power, but right now, they are not.
"At the moment, the cheapest in our generation fleet is nuclear [Koeberg]. The issue of affordability of nuclear is a separate one to saying it is a technology that can be used in South Africa. The US has got 99 nuclear reactors, China is building 26 new nuclear reactors; France derives 80% of its power from nuclear. Why are we, as Africans, failing on this?
"Why are we ending our conversation on solar and wind; why is that good enough for us," he said.
Ultimately, however, Molefe will be constrained by the fact that Eskom has to attract competitively priced capital just like any other business. Compared to the cost estimates of nuclear in the 2010 Integrated Resource Plan, South Africa's energy roadmap, nuclear is too expensive.
And following the fallout with Glencore which was forced to put Optimum Coal Mine into business rescue following a disagreement with Eskom over pricing, Eskom is facing more financing problems.
A banking source told Miningmx that three banks – Nedbank, Investec and Rand Merchant Bank – were hurt by the sale of Optimum Coal out of business rescue to Tegeta Exploration and Resources, the Gupta company.
"As a result, the banks have all run credit profiles on Eskom and found credit fatigue," the source said. What this means is that financing new coal builds, and quite possibly coal mine purchases such as Anglo American's planned divestment, are not bankable.