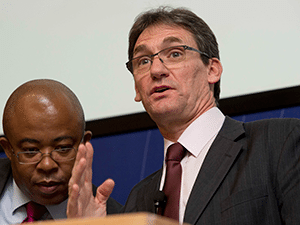 [miningmx.com] – ANGLO American Platinum (Amplats) would halt an expansion of its Unki platinum mine in Zimbabwe were the southern Africa country to apply a 15% levy on unbeneficiated exports.
Speaking in an interview at the Mining Indaba conference in Cape Town, Chris Griffith, CEO of Amplats, said the levy would add $10m to costs. "We would not go from 60 to 90," he said of a proposed de-bottlenecking project at Unki that would take its annual production to 90,000 ounces.
He added that the company was also seeking clarity on indigenisation, Zimbabwe's strategy to increase local ownership of foreign-backed operations to 51%. A heads of agreement was signed with the Zimbabwean government in 2012, but Amplats said progress had been slow since then.
The levy is intended to force platinum miners in the country into investing in a local refinery rather than exporting the raw concentrate to South African facilities. Platinum miners argue that whilst they support the refinery in principle, the levy would damage the viability of their mines in Zimbabwe.
Griffith's comments come against a background of significant cuts in spending by the Anglo American subsidiary.
Presenting Amplats' full-year figures today, Griffith said cash preservation remained a key area and that only the best projects would win board approval. It was also acknowledged that mining inflation had wiped out many of the company's efficiency gains.
The group, which reported profit attributable to shareholders of R624m in the 2014 financial year versus a negative R1.4bn in the previous year, said net debt was R14.6bn – a R3.2bn increase year-on-year.
Amplats' financial performance was largely informed by a five-and-a-half month strike last year led by the Association of Mineworkers & Construction Union (AMCU) that resulted in a loss of 532,000 ounces in production.
The effect of lower production was a revenue loss of nearly R12bn which translated into R8.5bn lower profit and some R9bn less in cash flow.
A weakening in the rand during the second half of the financial year of 12%, which helped the rand basket of platinum group metals some 16% higher, assisted the group's figures.
The strike had "a material impact" on unit costs which were 8.5% higher at some R22,917 per PGM ounce, the company said.
As a consequence of the balance sheet pressure, and given "… future funding arrangements", Amplats said it would once again pass the final dividend. It said it would redouble its cost-saving initiative which had targeted R3.8bn in 2015.
Amplats said it had introduced a process of "scrubbing and optimising" its stay-in-business portfolio of projects "… which will ensure that we prioritise capital spend and adequately manage business risk".
Capital spending is, therefore, estimated to be between R5.5bn and R6.5bn in the current financial year which compares to spend of R6.9bn in the period under review.
There was little fresh information regarding the sale of Amplats' non-core assets at Rustenburg, Union, and two investments in joint ventures with Atlatsa Resources and Lonmin. The group said it continued "to make progress" on the potential transactions which could also involve "a public market exit".
Despite the financial difficulties, Amplats is positive on the outlook for the platinum market believing that above-ground inventories that have been filling the supply deficit over the last three years would soon be diminished.
Above ground inventories were estimated to have fallen to 2.2 million oz from 4.1 million oz in 2012 although divestment of investment holdings in platinum took total demand down to 8.3 million oz from 8.7 million oz.
"Fundamentals of the market will recommence their role in the platinum market," said Griffith.