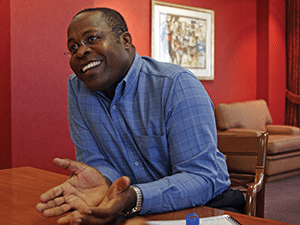 [miningmx.com] – LONMIN had made "good progress' in achieving its three-year, R2bn cost-saving drive, but group CEO, Ben Magara couldn't say if further capital expenditure cuts would be avoided. He also declined to respond to questions regarding whether the firm's Marikana mine was cash flow positive.
"We are seeing good progress in that we have lowered the staff by 750 people and re-deployed people to high value areas,' he said. Of the R2bn in savings, some R600m would be through re-deployment of staff to areas of the business where an increase in mining activity had been pinpointed.
In January, Lonmin cut its capital expenditure target to $185m from $250m and said it continued to review spending. Based on earlier budget planning, the company had targeted spend of $400m for the current year.
"We remain responsive to market conditions,' said Magara in an interview. "We will do the right thing to protect the business.
"We want to fund working capital fluctuations from bank facilities, but our long-term projects have to be funded from our own cash flow,' he said. He acknowledged there were "… pressures in the industry today", and estimated about 69% of the platinum industry was loss-making.
Magara was also reticent to say whether Lonmin was making progress on buying the shares in the Pandora joint venture with Anglo American Platinum (Amplats). Amplats has announced its intention to sell the asset over which Lonmin has a pre-emptive right.
"Geographically it belongs to Lonmin,' Magara said of Pandora. "There's always a seller and a buyer at a certain price in time,' he said.
"It fits our bill: it's in the right place and we are aware of Amplats' intentions. We remain exploring all options,' he said.
Magara stood by forecasts that production would be about 750,000 ounces of platinum group metals this year. This is despite downtime at its No.1 and No. 2 furnaces following technical problems in December.
"We have maintained production guidance and sales because we derisked the business with the second furnace which is back to full levels. We are expecting No. 1 furnace to come back in the first week of March,' he said.
Analysts have been critical of Lonmin's refusal to cut production which Investec Securities saying significant job losses were inevtiable in the long-term.
"We are encouraged to see a cut in the capex and that guidance is being maintained that will help preserve the balance sheet,' the bank said in a report.
"However, given the current PGM pricing environment, we believe the company's current business plan is unsustainable and will require drastic surgery.