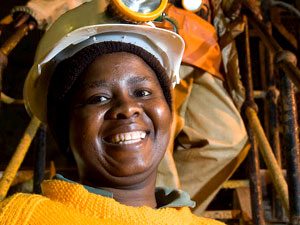 [miningmx.com] – An "old boys network', prevailing perceptions that women can't learn the tricks of the trade and a general lack of self-confidence are just some of the hindrances women, who intend on entering the mining industry, face.
Amanda van Dyke, who chairs the UK organisation Women in Mining, moderated a discussion at the Mining Indaba where women from various subsectors of mining spoke about the challenges and benefits of working in a largely male-dominated industry.
Trisha Naidoo, who heads the metallurgy team at Ivanplats, said a "lot of undoing of social conditioning needs to take place' before women will have more representation in mining. "I'm Indian and we've been brought up to be subservient. It remains a big challenge for women in the industry.'
Women need to start helping themselves if they want to advance in the mining sector, said Nichole McCulloch, managing partner at the Ashton Partnership – an executive search firm in London.
"The question is what women can do to equip themselves in the mining sector. The men I've come across have zero hesitation to put their hands up for senior positions, but women hold back, thinking they'll come across as being too pushy.'
McCulloch added that women in senior positions should reach out to their counterparts at junior level. "Some women in high positions are too happy to be the only female on the board and those in junior positions have to find male sponsors in business. Women need to put women forward.'
The panel agreed that perceptions of and attitudes toward women needed to change, but that women should also take responsibility to bring about a change in mind-sets.
Van Dyke pointed out that women and men needed to work together in an industry where 90% of the workforce is male.
Research done by sociologists confirm that a culture of hyper masculinity prevails in the mining industry and women's social conditioning of being more modest than men as far as career prospects are concerned needs to change. It's a misconception that there isn't a female talent pool in mining.
"What I'm about to say will be controversial, but women need to become "one of the boys' if they want to progress in the mining industry,' Van Dyke said with reference to women's lack of self-assurance in the extractive sector.
It's important for women to come together and show the mining industry what women are capable of, said Simone ellisOluoch-Olunya, Deputy Regional Director of UN Women, a member of the audience, during question time.
"There's still gaping gender equality in the extractive industry and lack of compliance with international standards. Women in mining also often don't get large contracts.'