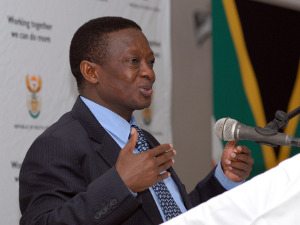 [miningmx.com] – MINING companies in South Africa are still not doing enough to empower women in the industry, and many of them "maliciously comply' with the Employment Equity Act, said deputy mines minister Godfrey Oliphant.
Oliphant was a member of a panel discussion convened by Women in Mining South Africa (WiMSA), a non-profit association representing women working in the mining industry.
"In 1996, we implemented affirmative action, yet only 10% of women are employed in the industry,' Oliphant said. "And when mining companies do appoint women they are only white women. This is what the trade unions tell us.'
Oliphant and his fellow panel members regretted the fact that too few women hold technical positions at mining companies. "We try to get girls to get skills in these areas, but we need partnerships with the mining companies,' he said.
The Mineral and Petroleum Resources Development Act (MPRDA), amendments to which were referred back to parliament for reconsideration, includes a section that deals with women empowerment in the industry, said Oliphant.
"Section 100 of the Act addresses transformation and states that 10% of ownership in the industry should be women,' he said.
During question time, a member from the audience challenged the panel members, saying board decisions about women empowerment alone won't get the industry anywhere. "When we employ people they need to at least have a basic level of education – something government needs to provide.
"But this is not happening. Education in rural areas where many of our mines are situated is appalling. How do we empower people if things like education, violent strikes and electricity generation aren't addressed?'
Oliphant said one has to consider what is "realistically possible', and companies shouldn't expect government to do everything. "We have unemployed graduates sitting at home. Education is a public good and companies need to help us with that.'