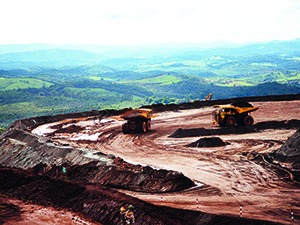 ANGLO American's Brazilian iron ore mine, Minas Rio, suffered delays after a pipeline burst on March 12 – the second potentially harmful mining incident in Brazil this quarter, according to Bloomberg News.
The UK-listed group said nobody had been harmed by the event, but it comes shortly after Norsk Hydro ASA's Alunorte alumina refinery, also in Brazil, halved output citing concerns a rainstorm had caused a leak which had contaminated a nearby river.
In November 2015, a rupture at the tailings plant at Samarco Mineracao SA's killed as many as 19 people and devastated the region. The operation is jointly owned by BHP and Vale, Brazil's state-owned iron ore and coal company.
Anglo American recently secured a first stage license to expand the mine's capacity and produce more of the steel-making ingredient. Anglo ceased some of its activities on Monday, it told Bloomberg News.