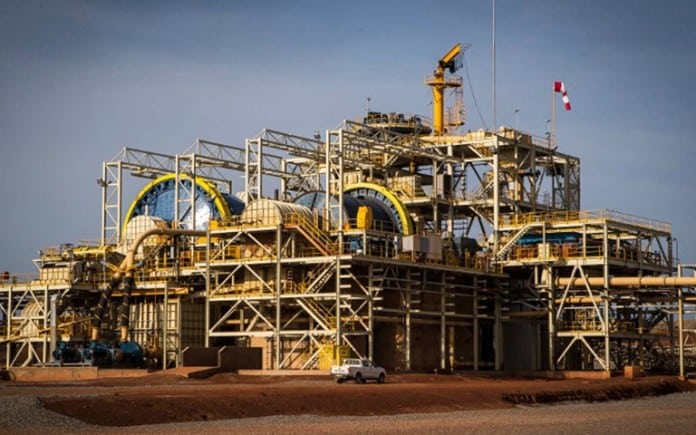 B2GOLD, the Toronto-listed gold producer, lifted its full-year gold guidance to as much as 920,000 ounces for the 2018 financial year following another impressive performance from its recently commissioned Mali mine, Fekola.
The group said that Fekola continued to operate at above plan, producing 112,644 oz in the second quarter of the year. This was 11% or some 11,225 oz above budget. The group also produces gold from Namibia (Otjikoto) as well as from Nicaragua from the El Limon and the La Libertad, and the Masbate mine in the Philippines.
Consolidated gold revenue for the period came in at $285m – an increase of 73% compared to the corresponding period of the previous financial year. Consolidated first-half gold revenue of $629m on record sales of 480,575 ounces at an average price of $1,309 per ounce was achieved, the company said.
Based on Fekola's strong year-to-date performance, Fekola's annual production guidance has been revised higher to be between 420,000 to 430,000 oz which compares to original guidance was between 400,000 to 410,000 oz.
First half gold production was a record 479,777 oz – 7% above budget and 89% higher than in the first half of the 2017 financial year.
"B2Gold is well on target to achieve transformational growth in 2018 and has revised its annual gold production guidance higher to between 920,000 and 960,000 oz (original guidance was between 910,000 and 950,000 oz) in 2018 at cash operating costs of between $505 and $550/oz and all-in sustaining costs of between $780 and $830/oz.
The production data is good news for BGold's debt repayment plans. It said in May that it intended to repay $259m in convertible notes in the current financial, assuming a gold price of $1,300 per ounce owing to the earlier-than-anticipated ramp-up of Fekola. B2Gold had built a cash position of $168m at end of the first quarter.
As a result, the company had paid off $75m of the $275m drawn down from its $500m revolving credit facility. "The planned repayment of debt in 2018 includes the anticipated repayment of the company's $259m convertible notes," it said in May. "The company projects  that it will have sufficient liquidity from 2018 operating cash flows and existing credit facilities to repay the notes in full and maintain a strong cash position," it said.
The convertible notes mature on October 1 this year unless the notes are converted into shares prior to that date at a conversion price of $3.93 per share, it said.