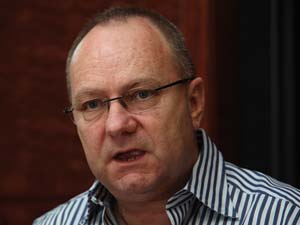 [miningmx.com] – IT has been two years now since Mark Cutifani took the helm of Anglo American in which he promised to hike investment returns, slim the asset mix and sort out the project pipeline he called constipated, ditching bad projects and keeping the good.
Anglo's share price, however, has tended to underperform its peer group – BHP Billiton, Rio Tinto and Glencore – in the last 12 months, especially from February.
Analysts believe that the company is moving in the right way, but there's concern about the firm's South African exposure, the drag in disposing of non-core assets and whether the group ought to be in iron ore at all, even if its expensive Minas-Rio mine is now operating.
If all the proposed divestments of South African assets proceed, i.e. platinum and coal mines, Anglo American in South Africa may start to look a bit 'top heavy'. Are you considering how the group may be restructured, or is this iterative process?
We are rebuilding our business and its competitive position. Our tough reality is that South Africa has a very high inflation, and so to compete we have to continue to reduce our overheads and others costs. Yes, as we do reshape the portfolio, there will be implications for the support structures required to support those mining operations, so an element of "right-sizing' will be required. Of course, any changes to the shape of the organisation will be undertaken in full consultation with all relevant stakeholders.
On asset sales, I imagine there's a balancing act underway of extracting value versus accepting a discount because you are selling short-life, low margin assets at a time of oversupply for many minerals. Is this an accurate description of the difficulty of the divestment strategy, or are you prepared for a prolonged divestment programme?
Short-life, low margin? I'm not sure that I'd agree with you there. These are good, cash generative assets; it's more a case that we don't see them fitting into our plans for the future and believe they will be better served under different ownership. There's no denying that there are headwinds in terms of commodity prices. There is a balance to strike here between speed and securing appropriate value. We have not held back in managing our costs to protect margins, including the assets we are divesting, and continue to do so in a very active way. Investors expect us to achieve reasonable value for these assets – but, at the same time, keep restructuring to support the delivery of our strategic objectives.
More specifically, it's been suggested that a first deal for the newly created South32 would be buying Anglo out of its Samancor stake – that's assuming that you agree that selling non-controlling interests in low performers is part of the strategy?
Selling our stake in Samancor is not on the cards at the moment. We like manganese and we like our position and expect to continue as we are. It generates return on capital employed (ROCE) of 20%, so it fits well within our goals for the overall shape of the business.
Have you found the possible listing of the Rustenburg assets to be an unpopular idea, partly on the basis that you'd be asking investors to buy assets which other miners would not buy?
We're still in our dual-track process of evaluating the best way forward for Rustenburg and Union. There's a lot of work that we have put in to restructure these mines into a sustainable standalone business – profitable and cash-generative. We've received expressions of interest and as I said earlier, we're only interested in selling for value. We are still evaluating which route to take and will make an announcement by mid-year.
You've been forthright on the regulatory regime in South African mining. Would you say that the Mining Charter audit, the Mineral and Petroleum Resources Development Act (MPRDA) recall and the confusion caused by the possible interface of the dti's BBBEE code with the Mining Charter has tipped South African mining into sub-investment territory for foreign investors?
I think the word confusion is the key here, in that it is the uncertainty around all this that is providing the barrier to foreign investors. Foreign capital has many choices in terms of destination, and the secret to success is to ensure that you create a stable and secure environment for that capital. South Africa is a great mining jurisdiction in terms of both its resources and its legal system. It's an industry that already makes a significant contribution towards helping government achieve its goals as set out in the National Development Plan – and it has so much more to give. But it's a capital-intensive industry that invests for the long term and we all need to reach a consensus on how to provide the certainty necessary to attract that capital. We need to be clear and consistent with our messaging if we want to attract investment.
Mineral Resources Minister Ngoako Ramatlhodi wants you to sell non-core assets to a national champion. Is this currently a feasible option for Anglo American?
We've obviously engaged with government extensively as part of our divestment process and we understand the government's thinking around a national champion. But there is work to be done in moving from the concept to the practicalities this will involve. We are more than willing to engage with government and await detail on the plan.
For all the negative criticism implicit in those last two questions, I see that Anglo is not really diluting its exposure to South Africa too much from a revenue, earnings before interest, taxes, depreciation and amortisation (EBITDA), and net present value (NPV) point of view. That's interesting because there must be huge pressure from shareholders if I add the Eskom and labour concerns into the soup of South African risk?
We are continuing to improve our productivities and costs. Our focus in South Africa is to continue to improve, as we are doing across all of our mining jurisdictions. Yes, labour costs, Eskom and regulatory uncertainty are challenges, but we still have competitive businesses and good people. We are accelerating improvements and so we are working to maintain our South African business as a viable global contributor.
From a commodity mix angle, do you put much store by analyst ideas that Anglo American would perform better as a precious metals and diamond-focused company, i.e. sell the legacy mistakes such as iron ore?
It's interesting isn't it? On the one hand, we have analysts floating questions about our exposure to South Africa, and on the other, they suggest that we should focus on platinum and diamonds. The two are mutually dependent and it's a good example of why our position as a diversified miner is so important. It gives us a different investment and risk profile to those who are more concentrated on just a few commodities or a few countries. It ensures that we will be able to deliver value through the cycle and provides a natural buffer, from both commodity prices and currency movements.
I was part of a visit in May to Minas-Rio, but I couldn't help thinking the mine was a child of the $130 (R1 622) per ton of iron ore era. Would you have built this mine? It also struck me that what's good for the asset – doubling or tripling production – probably isn't good for Anglo, i.e. getting cash to the centre. What are your thoughts on this, and whether you think you'd see Minas-Rio scale up in your tenure?
Minas-Rio is producing niche, high-quality pellet feed products at a low operating cost of $33-$35 (R411-R436) per ton FOB once we ramp up. It has a huge 5.3bn ton resource base over its long life. We all know that the company paid over the odds for the asset and to build it, but the underlying asset is very attractive. These are highly differentiated products that are valuable to our customers, both from an energy and environmental perspective, and we are seeing that in the above benchmark prices. We're up and running now as you saw and we'll be at full capacity by mid next year. The focus now is on safe ramp-up and providing a return for our shareholders.
There's been a lot of concern regarding Anglo American's balance sheet, especially the negative free cash flow (FCF). Do you see FCF in positive territory after capex and dividends this year, or the year thereafter?
We are comfortable with the balance sheet – we have $15bn (R187bn) of liquidity headroom and limited refinancing requirements. We said that 2015s dividend would be debt funded, but from 2016 it will be covered from free cash flow. The improvements that we continue to make are improving our delivery day by day. I am confident that people will see good progress across a range of fronts when we next report to the market.
You enjoyed telling me that contrary to my "warnings', Anglo American had not gobbled you up; in fact, the opposite was happening. But it is three years next April and Anglo American still looks like a work in progress. Has this been harder than you thought, and what has surprised you?
I have just clocked up my second year in April, and we are just warming up to the task. We have delivered on our key commitments and we continue to improve. I said the turnaround would be a three-year task – and we are tracking ahead of schedule. We are pleased with where we are and we see so much potential. On prices, we can't do much about the market – but the current price pressures have helped us focus the team on driving quicker change. We will emerge from the current market conditions a much stronger, leaner and effective company. Returns are not a nice-to-have, they are a commitment to our shareholders.
Finally, the market is a pretty glum place at the moment and yet shares in the diversified have fared well since the beginning of 2014, compared to the underpinning mineral prices. Do you think you and your counterparts at Rio, BHP etc. have done enough to win back investor faith?
In challenging times, there is always a sense of work in progress on that score. Investors have choices and it's our job to prove that the strategy that we have in place is the right one for delivering returns to them. We are transforming the business, and I am confident that we are on the right track and will deliver a very different Anglo American. The one thing we have to do is make sure people understand what we are doing and what the future looks like. We are not there yet – but the change is happening – you saw it at Minas-Rio. This is a different company and it is focused on a new future.