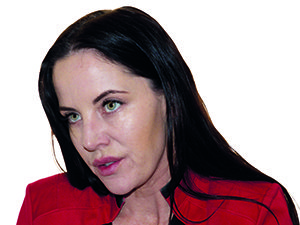 [miningmx.com] – IT is unlikely that anyone asked to name South Africa's main historic mining centres would include the remote Northern Cape town of Springbok in the list of far better-known destinations, such as Barberton, Kimberley, the Witwatersrand and Rustenburg.
Yet Springbok is where one of the country's new breed of mining entrepreneurs has set-up operations to exploit some of the copper ore bodies in the region that were first mined back in the 1850's, and where mining operations continued until the early 2000's when the O'okiep copper mine was finally shut down.
Shirley Hayes is Springbok born and bred, although she did some of her schooling in the nearby town of Pofadder in order to obtain her matric, which is her highest academic qualification.
Far more important milestones in Hayes' career have been her subsequent qualifications as a "magazine master' in charge of handling, storing and transporting explosives followed by the acquisition of a permanent blasting certificate in 2001.
After starting out in the mining sector as an admin clerk at the former Kelgran Africa Desert Rose granite quarry near Pofadder in 1997, Hayes has made it to the stage where she is running her own mining company and has negotiated a "buy-in' option deal with listed Village Main Reef (VMR).
VMR, the diversified mid-tier mining group set up by Bernard Swanepoel and which was subject to a takeover offer from Chinese group Heaven-Sent Capital Management, has the option to take a 31% stake in Hayes' operation, conditional upon providing agreed levels of funding to explore and develop the Concordia project.
Concordia, at present, has seven exploration targets on tenements totalling 36,000 hectares situated about 20 kilometres east of Springbok.
There's an obvious question: can there really be viable copper deposits left to be mined in the region?
Bear in mind that before the demise of major producer O'okiep copper mine, which operated near Springbok from the 1930's, the operations were first run by Newmont Mining, then by the former Gold Fields of South Africa and, finally, by specialist small mining group Metorex, until it was shut down in 2004.
"Yes, provided you are a junior miner,' answers Hayes emphatically.
"Big mining companies, with their high cost structures, do not find small ore bodies to be economically viable, but they can be for junior miners provided you keep your feet on the ground at the project.'
Hayes pays full credit to South Africa's new mining dispensation, the Minerals and Petroleum Resources Development Act (MPRDA), for breaking the stranglehold that the mining majors previously held over the bulk of the country's mineral rights and so allowing juniors like herself to get into the game.
"The MPRDA gave small miners opportunities they never had before through the 'use it or lose it' requirements, which forced big mining groups to give up huge areas of mineral rights they had been sitting on to keep them out of the hands of potential competitors. The new rules specifically enabled me to get going on my first operation consisting of a single quarry covering just 1.5 hectares."
LEARNER MINER
Hayes first got involved in mining in 1997 when she returned to Springbok from Bloemfontein where she had been working as a floor manager and then branch manager for retail group Markhams.
She acquired a temporary blasting certificate in 1998 which allowed her to get actively involved in the mining activities at the Desert Rose quarry. Hayes says that she was the first woman at Kelgran to qualify as magazine master and a learner miner, and the first woman to obtain a blasting certificate.
The Desert Rose quarry shut down and Hayes shifted to a nearby quarry run by Marlin Granite, but she was retrenched in 2002, when that quarry was closed in turn and after turning down the offer to transfer to Rustenburg where Marlin runs a number of granite operations.
Hayes now turned her hand to recovering feldspar through the treatment and rehabilitation of old dumps at the defunct Blesberg mine.
She comments: "It was the only opportunity I could see in front of me, so I grabbed it. I bought an old diesel Isuzu bakkie from my uncle, and agreed to pay three instalments of R5 000 each.
"I also rented an old John Deere front-end loader at R3,000 a month from a contact who had halted his small-scale mining operations. I hired some workers – among them the people who are now my BEE partners – and we started to recover feldspar from the dumps.'
The revenues from this operation kept Hayes going while she tried – unsuccessfully – to set-up another feldspar mine at Seepkar and then got one going properly at Altemooi from 2006 to 2011.
It was the only opportunity I could see in front of me, so I grabbed it.
Says Hayes: "But I soon realised I had reached the limit on what could be done with feldspar. There was no opportunity for further growth so I shifted my focus to other minerals and immediately saw the potential that existed in copper. I applied for the exploration rights at Concordia in July 2008 and it was granted in 2009.'
Hayes' focus is now fixed on developing Concordia, where she needs to raise funds to continue the prospecting and evaluation work required to upgrade the assessment of the contained ore resources and reserves.
HOPES
So far, a drilling programme and high-resolution aeromagnetic and radiometric surveys on the property have been carried out to identify the most likely development targets. An initial feasibility study has been completed and further drilling is planned. Hayes hopes to initiate a mining licence application process for Concordia this year.
But the $64,000 question would appear to be what the attitude of VMR's new owners might be to such a project situated so far from the rest of the group's operations.
Hayes declines to divulge any details on the state of play, however, she says: "Obviously we will have to see how the new CEO feels about developing such a project in the Northern Cape. Plan A is that we continue with the current agreement, but if they decide it's too small and they want out, then I have plans B, C and D as backup.'