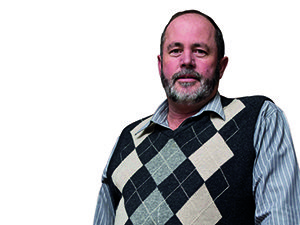 [miningmx.com] – THE operations of De Beers Consolidated Mines (DBCM) will dwindle further with the proposed sale of Kimberley Mines, but Philip Barton, the company's CEO, believes that DBCM has some surprises in stall for its followers.
"We are actively exploring in South Africa. We really believe there are a few more diamond mines left in the country that will fit into the criteria of De Beers and Anglo American," he says.
DBCM is spending in the region of R30m a year on exploration. "We have just flown over fairly big areas using new geophysical technology to identify certain targets. Based on the results of a fairly large number of prospecting licenses for which he have applied – of which a large portion has been granted – we will do ground geophysics that will point us to targets.
"We regularly find targets that lead us to undiscovered kimberlites [geological formations], but not all kimberlites contain diamonds. In fact, very few do contain enough diamonds to develop a viable mine. In the region of one out of every 1 000 Kimberlites may lead to a viable mine.
"The reason for our optimism is that comparisons of South African geology and the rest of the world show that South Africa is one of the most interesting geological areas in the world.
"The number of diamonds mines the country has produced confirms the geological importance for diamond production," Barton says.
De Beers has explored South Africa for many decades, but modern geological data collection started being stored since the late 1950s. De Beers has an enormous data base from these records.
"We suspect that there are a number of mines hidden in that data. The easy mines, where you literally stumble over the outcrops of diamond bearing ore, have been found.
"The remaining kimberlite is either hidden under significant cover or it is kimberlite that doesn't have the characteristics that we have come to know. Traditional methods will, therefore, not indicate such kimberlites.
"If you apply new technology and advanced theory from what we learned about kimberlites to the old data, you get interesting results. We have found from historical data that some kimberlites we knew were 10-times larger than we initially thought. The diamond content were not enough to justify a mine, but it gives you the idea that somewhere in the data there is a mine," says Barton.
De Beers has a team searching this data full-time. "We are very optimistic that we are going to find another mine this way," he says.
Anglo American's investment criteria is that it wants to invest in so-called "tier one' assets, but the value of a diamond deposit doesn't only lie in its size. You may find smaller mines that produces superior quality diamonds.
"You may therefore have a "tier two' mine that is extremely profitable, like our Victor mine in Canada. It is a small mine, but produces valuable diamonds.
"Once we make a find, we will sit down with Anglo and decide whether we will develop it or give it to someone else. At the moment, the focus is on finding it," says Barton with a big smile.
The immediate future of De Beers in South Africa, however, lies in the north of the country at Venetia, where it is spending more than R20bn developing an underground mine below the enormous current open pit.
"We are on target to deliver first production from the underground mine in 2021 and full production by 2024," says Barton. The project is fully funded from internal sources. The present softening in the diamond market has had no effect on the financing of the underground mine. "We still make enough money to pay for ourselves," he says.
The underground mine will give Venetia life until the early 2040s, with a production rate of between 4.5 million carats and 5 million carats a year. The mine has a variety of options to mine the three kimberlite pipes.
The decline has reached a depth of 650 metres and the pre-sink of the production shaft has been completed recently. At the moment the headgears for the production shaft and service are presently being built.
At Venetia, there are three main pipes and several smaller pipes. The mine pipe, K1, can produce 6 million carats per annum. The plant at Venetia was originally designed to process 4.8 million tonnes per annum, but was later improved and can present process 6 million tonnes.
"But as the underground mine develops, the production profile will increase and replace the 18% of our present production that we will lose due to the sale of Kimberley Mines. There will be somewhat of a dip, but it is going to last for a relatively short period," says Barton.
It is probably not the right time to sell Kimberley from a price perspective, Barton concedes.
"The diamond market is somewhat soft at the moment, but if you look at it from the perspective of achieving a successful sale, it is the right moment – and our previous sales were all successful and is still in production. Kimberley still has relatively high grade tailings resources left.'
Selling now gives the buyer a combination of higher grade material and lower grade. The big prize in Kimberley Mines is the lower grade material that can last at least until 2030. Giving the buyer a head start of some three years with the higher grade material gives them a better chance of sustaining the operation for the longer term.
"If we continue until 2018, when the higher grade material is depleted, we will destroy the value of the remaining carats in the lower grade material," he says.
According to Barton, there are indications that the market is recovering. In the cutting and polishing sector, there is quite a lot of debt and diminishing sources of new capital, but there are indications that the liquidity is improving.
"Stock levels are low at the moment, but there is demand. The increasing liquidity indicates an improvement in confidence levels. We will have to see when it culminates in increasing their stock levels," says Barton.
From a longer-term supply perspective, there just aren't too many new diamond mine discoveries taking place, he says.