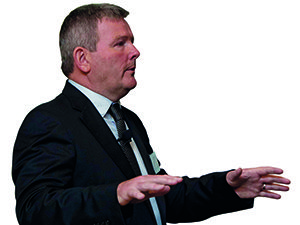 [miningmx.com] – IN 2012, Impala Platinum (Implats) published a corporate history entitled: 'Who the hell wants to be in platinum?' It pretty much sums up present investor attitudes towards the platinum mining sector, which is currently plumbing the depths of one of its worst-ever downturns.
Implats was then being run by CEO, David Brown. One of the top executives featured in the book was Paul Dunne, an Implats "lifer', who was then group operations executive responsible for all Implats' processing and mining operations, and who had been appointed an executive director in 2010.
Fast forward three years.
Brown now runs coal junior miner Coal of Africa, having been replaced by Terence Goodlace, while Dunne is busy reshaping the platinum sector as CEO of Northam Platinum (Northam) after a major bust-up with Goodlace.
That – apparently – resulted from Goodlace's actions in getting heavily involved in the technical mining aspects of the business which was Dunne's territory. Goodlace is a mining engineer by training, while Brown is an accountant and was CFO at Implats before being appointed to the top slot.
Dunne, who is an electrical engineer by training, won't go into details of what happened other than to comment: "It's been over-played. Terence and myself have a professional working relationship to this day.'
But the end result is that a top mining executive, who does want to be in platinum and who believes passionately in its long-term fundamentals, has been put in charge of his own show at a time when the platinum sector is in turmoil and ripe for change which could well be to Northam's benefit.
He's clearly loving it. Dunne comments: "In my previous role, I was chained to the headgear because I had a very operational focus. I still have those responsibilities, but also now have the corporate role to fill. I am relatively inexperienced in that area, but I am learning fast.'
He adds: "This is the worst downturn I have been through in 27 years. It is protracted and deep, and there could be more pain to come.
"The world is in turmoil and has to sort itself out, but our own research indicates a fundamental shortfall in the platinum supply and demand balance that will re-assert itself. Fundamentally, we believe in our product and we are positioning Northam to participate in that upturn when it arises.'
FUNDAMENTAL CHEMISTRY
Asked about the fear that platinum could be substituted in its main use – as autocatalyst to clean-up vehicle exhaust emissions – Dunne says: "The reason these [platinum group metal or PGM] metals are used is because of their fundamental, elemental properties.
"We are talking about fundamental chemistry. It is very difficult to substitute them plus the substitution that does take place is between the sister PGM metals – mainly platinum, palladium and rhodium.
"The real pressure point is in primary supply which is under severe pressure while demand is still growing. South African primary output peaked around five million ounces of platinum in 2006/2007. South Africa is now mining around four million ounces annually, but the replacement investment to maintain that production has not happened for the past decade.
"The industry is getting smaller and will continue to do so, but we see a point in the future where it will be leaner with fewer but healthier companies, and platinum prices must move if my predictions on the demand side are right. They must move back to the incentive price required [for investment in new platinum mines] given the inherent risky nature of mining.'
STRATEGY FIRST
Platinum is a notoriously volatile business which has been through a number of vicious boom and bust cycles since geologist Hans Merensky traced out the extent of the platinum reef that bears his name in 1922.
Assuming Dunne's assessment is correct, he still has to keep Northam in shape to survive the current crisis and then benefit from the upswing.
That's exactly what he's doing, with a number of deals already under his belt – sorting out empowerment challenges and share "overhang' issues, as well as setting Northam up for expansion to an aspirational production target of 1m ounces (oz) of PGM annually by 2020.
Developments in motion so far, including the acquisition of the Everest South mine earlier this year, and the future organic expansion of Booysendal North, add up to about 800,000 oz/year when taking into account the existing production from the group's deep-level Zondereinde mine.
But there's a lot more involved in the creation of a successful mining group than putting expansions in place and carrying out merger and acquisition activity. Dunne is quick to highlight what he views as the key issue: motivation of the team in a people-focused organisation.
He gives full credit to two former Implats CEOs, John Smithies and the late Steve Kearney, for their influence in shaping his career and ability to manage people.
"Both of them had a tremendous influence on me and Implats. They had people skills and clear principles of fairness and even-handedness that engendered my respect for them. Both of them were very competent leaders, but what stands out for me above all else was their ability to work with people.'
The industry is getting smaller and will continue to do so, but we see a point in the future where it will be leaner with fewer but healthier companies
According to Dunne, the first priority for success in any company is to set a clear, strategic direction that can be clearly articulated.
"But, once that's in place, you have to be able to motivate the team to execute that strategy.
"You should not have to crack the whip every day because people should understand where the company is going – and what we are trying to achieve – and be able to bring their own momentum to execution and delivery.
"I think I am a strong motivator and articulator of strategy. You need to install self-confidence in people and I think I am good at that. That's the way John Smithies and Steve Kearney operated and they have passed a lot of that on to me. You learn over the years what works and what does not work.'
DEAL-MAKING
Since taking over at Northam in July last year, Dunne has put a series of deals in place which have reshaped the platinum miner, but he also pays full credit to the prior work done by former-CEO Glyn Lewis, whom he replaced upon Lewis' retirement.
Lewis, a chain-smoking, hard-bitten mining veteran of the old school, performed the seemingly impossible in keeping the deep-level Zondereinde mine profitable through the worst of the platinum price bust, while ensuring Northam's future growth with steady development of the Booysendal North mine.
Says Dunne: "Northam finds itself in a position to be able to take advantage of this because of the solid foundation built by my predecessor Glyn Lewis, who successfully established the Booysendal North operation.'
Lewis appeared a harsh taskmaster to outsiders but, according to Dunne "underneath that tough exterior there was a people's man without a question. I have tremendous respect for him.'
The first deal announced in February was the acquisition of Everest North from Aquarius for R450m. Everest North sits adjacent the southern end of the Booysendal deposit, where Northam has built the Booysendal North mine.
Dunne intends using the existing underground infrastructure to "fast track' the development of Booysendal South at a much lower capital cost than if Northam had to build a new mine there from scratch.
He points out that it cost Northam "just south of R5bn' to build Booysendal North which will produce initially 160,000 oz of PGM annually.
By comparison, it will cost R2bn to build Booysendal South into a mine producing 250,000 oz annually over the next four to five years making a total cost of R2.45bn, taking into account the R450m paid to Aquarius.
Then in March, Northam moved to resolve the potential overhang in its shares posed by the 13% stake held by ENRC (Eurasian Resources), which was a potential seller. Such a sale could easily have knocked the share price down.
"We convinced ENRC that we would be their best ambassador on value. The shares were then put into safe hands being sold to South African institutions, with ENRC getting out at a 1% discount to market value which was a remarkable outcome.'
Then came the strategically important black economic empowerment deal through which Northam dealt with the critical issue of finding a new BEE partner to replace the Mvelaphanda Group which had sold out.
That not only boosted Northam's BEE shareholding from 4% to 35%, well above the legislated 26% requirement, but also brought in R4bn in cash to the group through the issue of Zambezi Platinum preference shares which are now listed on the JSE.
Dunne comments: "In essence, there's no free ride here. It's a vendor financed deal between existing shareholders and future empowerment shareholders with the company providing a facilitation role.
"The current shareholders have issued 22% of the company in exchange for a debt-funding mechanism which is the preference share. It solves the empowerment problem and protects ordinary shareholders.'
The dispute between the Department of Mineral Resources (DMR) and the Chamber of Mines over the issue of "once empowered, always empowered' is in the process of being taken jointly to the courts for a legal decision.
Despite this, Northam has opted to go ahead and replace its previous BEE partner.
Responds Dunne, when asked why: "We listened very carefully to the views of government and, in particular, the DMR. We formed an opinion internally that it would be in the best interests of our shareholders to resolve the empowerment issue.
"I think we have done it in such a way that the value of existing shareholders has been protected. They get the preference share – the debt funding mechanism which is at prime plus 3.5, which is a 12.75% coupon in today's books. That's a powerful investment vehicle in its own right.'
Northam finds itself in a position to be able to take advantage of this because of the solid foundation built by my predecessor Glyn Lewis
Next up is the development of a decline shaft at Zondereinde, currently the world's deepest platinum mine, which will take mining operations down to 2,300 metres to access quality Merensky Reef which, according to Dunne, is "consistent, thick, has a good grade and does not suffer from potholing'.
Potholes – circular areas in the Merensky Reef where the reef is un-mineable because of displacement – have previously caused major disruptions to operations at Zondereinde.
Zondereinde also intends upping the percentage of UG2 reef to be mined and will build a new smelter designed to handle UG2 concentrates working alongside the existing smelter which was designed for Merensky concentrates.
FLUX
Northam Platinum was originally started back in the mid-1980s when the former Gold Fields of South Africa set about developing the Zondereinde mine, but then encountered major technical and mining problems because of the depth.
Northam went through years of "hand to mouth' existence. It has now has a much brighter future with Zondereinde finally performing well, while management focuses on the development of new, low-cost, shallow mechanised mining operations.
JP Morgan Cazenove analysts Allan Cooke and Abhishek Tiwari rate Northam's management highly. "The team has in the past delivered relatively good cost control, despite operating the deepest and technically most complex platinum mine in South Africa,' they said in a report.
"Post its new BEE deal, Northam will be cash flush with over R3.5bn in net cash, plus another R3bn in available debt facilities. This war chest could potentially be used to expand Booysendal and/or purchase other assets.'
Says Dunne: "The industry is in flux. Change is happening and opportunities are presenting themselves. Investment, divestment and consolidation are all taking place at the same time. That can only be good for the industry.
"We are at a point in time where we are going to take advantage of the situation and carry out the steps to position Northam for the future and the better dollar-price environment which will surely come.
"Now is the time to do it. We have beefed up the balance sheet to the point where – pound for pound to use a boxing analogy – it's the strongest balance sheet in the industry and that enables Northam to transact if we can find the right asset at the right price.'
But Dunne is giving nothing away about his merger and acquisition planning, only commenting that it's "a story for another day'.