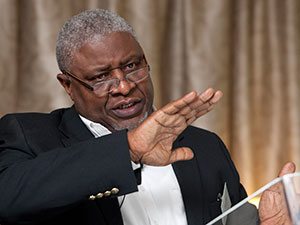 [miningmx.com] – EXXARO Resources will remain empowered through the active participation of black economic empowerment (BEE) partners, even if the joint approach to the courts by the Chamber of Mines and the Department of Mineral Resources (DMR) to resolve their dispute over "once empowered, always empowered' rules in favour of the chamber.
That's the view of outgoing Exxaro CEO, Sipho Nkosi, who is also a key member of one of the BEE consortiums which empowers and controls Exxaro: Dreamvision Investments (formerly Eyesizwe).
Nkosi will step down as CEO at the end of March next year and hand the reins over to fellow Eyesizwe member, Mxolisi Mgojo, but 2016 will also see the contractual termination of the BEE structure put in place when Exxaro was created in 2006.
That was as part of the major shake-up of the South African mining industry through which Anglo American gained control of the former Iscor's iron ore division – now Kumba Iron Ore – while Exxaro was formed through the merger of Eyesizwe with the rest of Iscor's mining division.
As Nkosi puts it: "Ours was not the best of empowerment deals, but it's one of the few that is still standing. I am humbled by what we have done as a team at Exxaro.
"We've made mistakes and we probably could have done it differently, but when you look around to see who's still standing, most of the ones who started when we did are gone. I am grateful that we are one of the few remaining.'
Exxaro is now by far South Africa's most important supplier of coal to Eskom. At end-December, the group had assets of R47.4bn and a market capitalisation of R37.1bn, although the company's value has taken a beating since then because of the current severe commodity market downswing.
In January 2012, Exxaro paid out up to R135,000 each to some 10,000 employees when the group's five-year Mpower employee empowerment share participation scheme matured.
In an in-depth interview with Miningmx, Nkosi spelt out his commitment to keep Exxaro a "South African group in the true spirit of that description' and indicated that he intended to get involved in community work in his native Kwa-Zulu Natal province to try and spur economic development at grassroots levels.
"At Exxaro, we believe that we must always be seen as a new order organisation demonstrating the success of empowerment in South Africa. This is meant to be a truly South African organisation, controlled by South Africans and run by South Africans.
"Even if the concept of "once empowered, always empowered' is shown to be correct, we would still want to demonstrate that empowerment is not just for a stated period.
"So, irrespective of the outcome of that judicial process we want to remain empowered. That's the vision. We believe it gives hope to the younger generation, in particular those who thought it would never be possible for blacks to uphold an organisation where blacks could be the CEO or the CFO.
"I don't think it would look good if some Chinese company came along, bought Exxaro and then there was no Exxaro going forward.'
Nkosi stresses that he's not involved in the current negotiations to set-up a new empowerment structure for the group.
He comments: "I have divorced myself from this process as far as possible because of the obvious potential conflict and the whole exercise is being run by Wim [Exxaro financial director Wim de Klerk].
"We are in conversation with the current consortium to see how best to deal with it and we are hoping that the changeover will be a smooth process when it happens in 2016.'
Nkosi (now 61) says that he's stepping down because "it's good at some point to slow down and do other things'.
He concedes that he would love to stay and take on the challenge of steering Exxaro through the current grim conditions in the commodity markets, but adds that "there are stronger arms around to take on that job'.
He intends joining the "Exxaro pensioners club', which is a group of former-Exxaro executives headed up unofficially by former-Exxaro CEO Con Fauconnier, who is a regular attendee at Exxaro results presentations.
But Nkosi indicates that his retirement focus is going to be primarily on community development around his home town of Vryheid, northern KwaZulu-Natal.
"You go back there and there's nothing. I would like to spend time there, get involved with young people, get involved with community development, help out with small business development and entrepreneurship and see what I can do. I think it will be very fulfilling.'
TOUGH DEAL
NKOSI awards a lot of credit to the role played by Fauconnier in creating Exxaro – going back to when the two first met in 1999, when Fauconnier was in charge of Iscor's mining division, while Nkosi was running junior coal company Eyesizwe Mining.
Nkosi had previously worked for Anglo American Coal, Ingwe Coal and power generation group ABB before branching out on his own with Eyesizwe.
The breakthrough came at the end of 1999, when Nkosi convinced Anglo American Coal and Ingwe to sell Eyesizwe, the "new coal assets' – essentially, a few so-so Eskom-tied collieries, along with various coal mineral rights.
Fauconnier told Miningmx in 2006: "I told Sipho if he could get hold of New Coal then we could build the largest coal business this country has ever seen.'
Nkosi comments: "In a way, I was lucky. Ingwe CEO Dave Murray knew me because I had worked for Ingwe, as did Anglo American Coal CEO James Campbell because I had worked for him.
"Eskom had a big say in the New Coal deal, and Eskom executives like Brian Dames also knew me because of my involvement in power generation as the MD of ABB South Africa.'
But business is business and the Anglo/Ingwe goodwill went only so far. Nkosi recalls: "I knew those coal assets from working at Anglo and Ingwe. They were not the best in town and I challenged Dave [Murray] saying "how can you try to sell us these assets?'
"His reply was "that is what is on the table. You buy or you don't buy. It's up to you'.'
Ironically, Nkosi got his own back through the subsequent Kumba deal because he effectively managed to trade the New Coal assets back to Anglo at a higher price and in return for the far better quality mining assets owned by Kumba.
Nkosi adds that Fauconnier had a huge impact in shaping his career and he, in turn, has tried to feed the lessons that he has learnt to his own management team.
One obvious example is the decision to make Mgojo, the CEO designate, for a year before taking over from Nkosi in April next year. Nkosi had a similar arrangement as CEO designate to Fauconnier who ran Exxaro for the first year after its formation.
Nkosi comments: "Once the deal to set-up Exxaro was done, Con told me that "right, it's your baby', and I replied "no ways, you are going to be the first CEO'. The reason was that I was a coal man, and I did not yet understand the other commodities.
"Con played a key role in my life. After he retired, he was still my sounding board. I would frequently have breakfast with him and get his advice on issues.'
Ours was not the best of empowerment deals, but it's one of the few that is still standing
Nkosi also maintains his famous "hospital passes' during question time at Exxaro results presentations – through which he deflected pointed questions to the executive in charge of that particular division – were all about building experience and not because he hates being cross-questioned by analysts and journalists.
"Initially, I used to take the questions, but when Exxaro was created out of Kumba, we lost a number of seasoned managers and there was a lot of sniping about just who these new replacement managers were because they were unknown to the market.
"So, one of my priorities was to expose my management team to the questioners so they would become better known. That has worked to the extent that there were no questions asked regarding the appointment of Mxolisi to replace me as the new CEO. They now know him.
"Also, it was about building their confidence in public speaking and in dealing with tough questions, as well as also exposing them to the way the real world works: how you can get misquoted or misinterpreted, for example.'
TOTAL
Nkosi is a former president of the Chamber of Mines, so his views on the troubled relationship between the ANC government and the South African mining industry carry a lot of weight.
He believes that there has always been tension between government, labour and the mining industry, and such tension is to be expected as normal on certain issues. Where Nkosi is concerned is over the lack of progress on cooperation in tackling the fundamental issues concerning the future viability of the country's mining industry.
Says Nkosi: "You can contest on wages and salaries. You can contest about whether the mines have complied with the law. That's fine by me, but the most important vital issue that has not yet been addressed is how all three groups need to work together to ensure the future viability of the mining sector.
"The issues that must be focused on include questions like: can people rely on South Africa as a producer and supplier of minerals? Do we have the right level of skills available? Is the necessary infrastructure such as electricity, water and rail capacity in place?
"If there are issues that threaten to destroy the industry, then all parties need to rally round and make sure that they are fixed, but these issues are not being tackled in a coordinated manner. This alignment has never happened and I am not sure why.
"A lot of players have tried to make it work, but it's not working at this time. However, necessity is the mother of all invention.'
By that Nkosi means events such as the current electricity crisis and the looming unemployment crisis, owing to potential retrenchments from the mines, could force the necessary collaboration to take place.
Turning specifically to Exxaro, Nkosi says that the group had been forced to hold back on its diversification strategy to focus on its core coal business in order to survive the current grim downturn in the commodity markets.
"We have to focus on the Waterberg to exploit the resources we already have, but our aim for diversification has not died. We will look at other projects when times get better.'
The reason is that Exxaro is reaching the limit on what it can aim for in future growth in its South African coal business where it is already the largest supplier of coal to Eskom and faces constraints in gaining access to the export markets.
Says Nkosi: "If I leave out Medupi we are already responsible for supplying the coal that generates more than 15 000MW of Eskom's nominal 40 000MW total capacity. That is huge exposure, and I am not sure Eskom would award us another power station contract assuming they build another coal-fired station.'
Last year, Exxaro agreed to buy Total Coal South Africa, primarily to get greater access to the export market through Total's shareholding in the Richards Bay Coal Terminal, but the deal was held up because the required Section 11 approval for the transfer of the prospecting and mining rights has not yet been granted by government. Earlier this week it received the approval whilst Exxaro also negotiated a much lower price with Total owing to the decline in the coal price during the year it took to approve.
Exxaro's other recent major play was for the Mayoko iron ore project in the Republic of Congo, but that has also not worked out so far.
"Iron ore is a bulk commodity and we understand that kind of business. We also have iron ore experience through our links with Kumba. Unfortunately, the iron price has collapsed and we don't see much hope of a recovery before 2019, while this juggernaut in Australia [BHP Billiton and Rio Tinto] just keeps churning the stuff out.'